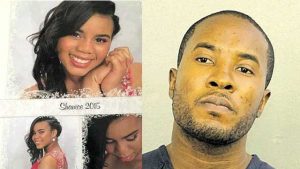 WHEN 32-year-old Jamaican Kevin Nelson told his sister, Janice Smith, that he had shot his spouse and her 15-year-old daughter to death last Friday, she was relieved when he said he was joking.
However, on Monday, Nelson made an about-turn when he phoned the Sunrise Police Department in Florida and allegedly confessed to killing Karen Lyle and Shanice Smith. Shanice is the daughter of Jamaican entertainer Anthony Cruz, whose real name is Rowan Smith.
Yesterday, a post on the entertainer's
Facebook page said that he is now "mourning the loss" of his daughter and her mom, and that previously scheduled performances had been cancelled.
"I can't believe they kill my one and only daughter, feeling heartbroken…" Cruz posted along with a photo of the teen.
A police report obtained by the Jamaica Observer stated that Nelson, a naturalised United States citizen, called 911 at approximately 11:16 am two days ago informing them of his address and that "shots were just fired". He also allegedly told the police that he was "the person with the gun and there are two people dead".
Nelson also reportedly told police, who had arrived at his two-storey town-house along with a Crisis Negotiation Unit (CNU) officer, that he was afraid of getting hurt, that he had hurt people, and that he was a failure.
"I am going to prison forever," he reportedly said during a five-hour-long negotiation with the CNU team.
Nelson subsequently surrendered after agreeing to place his semi-automatic handgun at the top of the stairs.
The police report said a search of the house resulted in the discovery of Lyle's body in the master bedroom with a bullet wound to the head, and Shanice's body at the top landing of the stairs with a bullet wound to the cheek. Both bodies were covered up to the necks with blankets.
Nelson, the report stated, had gone to his sister's house with his eight-year-old son last Friday night and told her that he had got into an argument with Lyle and that he had killed her.
"Janice asked the defendant if he was kidding with her, with the defendant replying in the affirmative," the report said, adding that Nelson left his son "in Janice's care and left the residence".
According to the police report, one of Nelson's neighbours stated that he had in fact heard what he believed to be several gunshots about 7:30 pm on Friday.
The report also stated that Nelson spoke with Lyle's brother, Kenroy Walker, whom he texted: "Shanice, Karen and me are dead. The cops [are] here and the news crew."
The report also said Nelson texted Lyle's friend, accusing her of cheating on him, lying to him, talking down to him, and embarrassing him on a regular basis. He also accused Lyle of cheating with her ex-husband.
"I'm sorry for everything," he later texted. The friend is said to have called Nelson and was allegedly told, "I am sorry for everything. I shot her." Asked about Shanice, he reportedly said: "I shot her too."
Nelson later told police while in custody at the Broward Sheriff's Office main jail, "I am in trouble. There are two dead people in there. I can't explain this. No matter what I say it doesn't matter, the facts are still there."
He was subsequently charged with two counts of premeditated murder.