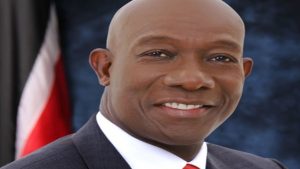 Caribbean leaders gathered in Port-of-Spain, Trinidad and Tobago, on Monday to discuss the growing threat of crime in the region.
The historic gathering, hosted by Caricom, saw leaders gathered to, as T&T Prime Minister Dr Keith Rowley said, confront a problem that is common and threatening to every aspect of every individual's life in the Caribbean.
Entitled The Regional Symposium: Violence as a Public Health Issue – The Caricom Challenge, the conference emphasises the public health risk from the growing violence.
In his welcoming address, Dr Rowley said violence in the Caribbean is a public health emergency that threatens our lives, our economies, our national security, and by extension every aspect of our well-being.
"In Trinidad and Tobago, in the years 2011 to 2022, we have lost and had to grieve for 5,439 lives to violent murder, largely through the use of imported firearms and ammunition. In 2011 we lost 352 lives and by 2022 the annual count was over 600, a new record, already being challenged by the murder rate for 2023. Except for Covid, in a pandemic, none of the listed dangerous diseases have taken lives like this in our population," he said.
Detailing the cost to the taxpayer, he said for the thousands of wounded, victims and perpetrators alike, a surgical intervention to the head costs approximately TT$170,000, a surgical intervention for a chest wound would cost about TT$135,000. A shot to the leg requiring surgical intervention would cost just under TT$100,000 and a leg shot without surgical intervention would cost about TT$40,000 in medical care and attention.
"All of these frequent daily incurred costs are to be borne by the taxpayers at every level from scarce revenues diverted from other more deserving productive priorities," he added.
He said Caricom Heads of Government recently began looking at rising crime and violence in the region as a public health issue, with commitments to mount a symposium in 2019 but all efforts were displaced and delayed by the Covid-19 pandemic.
'It is against this background that when Trinidad and Tobago announced its intention to have its own national discourse and our Caribbean neighbours gladly agreed to join in that we had no hesitation in making room for widest participation to fight this demon," he said.
Caricom Secretary-General, Dr Carla Barnett said while the decision to host a symposium was previously a national undertaking for the Government of Trinidad and Tobago, the rising crime and violence across the Region affects all Member States, and the decision to extend it to the region was a welcome one.
In her welcome remarks to the ten Heads of Government and the approximately 100 delegates gathered at the Hyatt Regency Trinidad, Dr Barnett underscored that violence is an epidemic and should be addressed with the same mix of strategies as other epidemics.
"The data and research, along with the financial resources, will allow timely implementation of the root causes of crime and mitigate the devastating effects of crime and violence on our societies," she said.
Philip Davis, Prime Minister of the Bahamas and Caricom Chair, detailed the level of crime in the region.
"In 2022, Jamaica had a staggering homicide rate of 52.9 per 100,000 inhabitants, Trinidad and Tobago had a rate of 39.4 per 100,000, and The Bahamas, St. Lucia, and St. Vincent and the Grenadines all recorded homicide rates above 30 per 100,000. This is over five times the global average," he said.
"On a typical day, some estimates suggest that an average of 13 young adults between the ages of 16 to 30 lose their lives to violent crime in our region. Each day that passes is another day in which lives are ended, families are broken by grief and loss, and our communities threatened. We need to mobilise resources with the same determination we would bring to fighting any other life-threatening epidemic," he said, agreeing with the emphasis on violence as a public health concern.
Stating that the problem is not merely a policing or legislative one or the sole domain of the courts, Davis said while better laws and expanded police capacity are important elements of a successful strategy, we need all hands on deck: parents, social workers, educators, rehabilitation specialists, social scientists, community workers and activists, mental health professionals, religious leaders, and many others must come together to address this pervasive issue.
The symposium continues on Tuesday