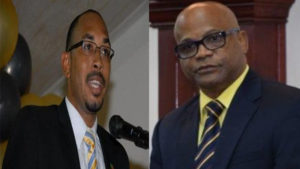 High Court Judge Justice Eddie Ventose has refused to set aside a court ordered judgment against Tourism Minister attorney at law Lindsay Grant and attorney at law Jonel Powel, where they were ordered to return almost half a million US dollars to a client.
The claimant, a company named Tanzania Tobing Tanzil, filed a claim against Grant and Powell in December 2017 seeking an order that the Defendants had breached their fiduciary duty and/or their duty of trust owed to the Claimant as his Solicitors and escrow agents, and/or acted fraudulently in receiving, using and/or failing to account for the sum of US$460,000 which was transferred to the Defendants' bank account in or about May 2013, for the purpose of purchasing a condominium unit under the Citizenship By Investment Program, and secure title to the property. The company further sought an order that the Defendants immediately return the money.
On 9 October 2018, the master granted the request for a default judgment, and a few days later the Defendants filed an application to set aside the default judgment. In February 2019, the court determined the terms of the default judgment and ordered the Defendants to pay damages.
Justice Ventose on October 28 ruled that "the application to set aside default judgment is hereby refused".
The Defendants will also have to pay damages to be assessed.
Mr. Sylvester Anthony, Mrs. Angelina Sookoo Bobb and Ms. Renal Edwards represented the Claimant and Grant and Powell were represented by Mr. Brian Barnes, a partner in the law firm Daniel Brantley and Associates.
On Wednesday the firm of Grant, Powell & Company issued a statement signed by Minister Grant as senior partner on sabbatical and Mr. Powell as managing partner denying any wrongdoing and saying they intend to appeal the judgment.
"We, the partners of Grant, Powell & Co., Mr. Lindsay Grant (on sabbatical) and Mr. Jonel Powell comprehensively deny all and every allegation of wrong doing in the above cited claim. We continue to vigorously defend this matter and will do so to the full extent of the law. The recent judgment in default in this matter is being appealed. As this matter remains in the jurisdiction of the Court it would be inappropriate to make any further statement in the circumstances, save to say that we expect to be fully vindicated at the end of this process. Grant, Powell & Co. always serves its clients with the highest levels ethics and professionalism in the pursuit of the rule of law and continues to do so."
While sources close to the Opposition St. Kitts and Nevis Labour Party have called for Minister Grant and Ambassador of Sports Jonel Powell to resign, party members have so far declined comment on the court ruling.