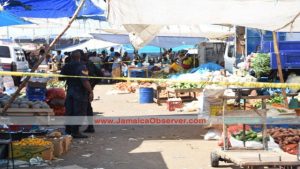 THE West Kingston police were up until late yesterday hunting a handcart man for questioning in relation to the fatal stabbing of a vendor at Coronation Market, downtown Kingston, earlier in the day.
Twenty-seven-year-old Alvin Brown died after being stabbed at approximately 7:00 am by the unidentified handcart man during an altercation in the vicinity of Ackee Walk pathway. Brown was taken to Kingston Public Hospital where he succumbed to his injuries.
Yesterday, when the Jamaica Observer visited the popular market where Brown's partner, Devine Gordon, and other relatives ply their trade, a deep sense of sadness hung over the area.
"Mi and him pack out my load and him go out go pack out fi him load. …. and dem call mi and tell mi seh him get stab. When mi go up deh mi see him on the ground," said Gordon as she tried without success to fight back her tears. Gordon is the mother of Brown's son, his only child.
Brown's brother, Garyick Wright, was in a sense of disbelief. "Mi never did deh here, mi did deh a country, mi just come up. Mi lef' him Wednesday and go a country. Is not a man that trouble people, a cart him push and sell. Mi never believe when mi hear first until mi mother call mi," Wright said.
"Him born as a hustler, a dat a fi him trade," Wright added. Brown's cousin, who gave his name only as Chester, said that he was with him moments before the stabbing. "Not even two seconds mi tek mi eye off him mi see him a kick pon the ground; mi nuh know how him get stab," Chester said.
Another relative, who gave her name has Carmelita Robinson, said that Brown was contemplating leaving the market because of slow business. "Just yesterday him seh him waan lef' the market and go overseas 'cause nothing nah gwaan in here," Robinson said.
The police are probing the matter.