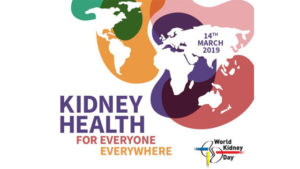 Chronic kidney diseases (CKD) cause at least 2.4 million deaths per year and are now the 6th fastest growing cause of death.
Speaking on the occasion of World Kidney Day on March 14, NIA Junior Minister of Health Hazel Brandy-Williams noted that the cost associated with treating the growing burden of kidney diseases weighs heavily on healthcare budgets globally.
She pointed out that Chronic kidney disease is considered an important contributor to increased morbidity and mortality from other diseases and risk factors including cardiovascular disease, diabetes, hypertension, obesity, as well as infections such as HIV and hepatitis. Furthermore, Chronic kidney disease in children, not only leads to substantial morbidity and mortality during childhood but also results in medical issues beyond childhood.
"Today March 14th is recognized as World Kidney Day, and we join the global community in raising awareness by promoting the theme "Kidney Health for Everyone". This year's theme calls for universal coverage for the prevention, diagnosis and early treatment of kidney disease.
Chronic kidney diseases are not curable and can trigger a myriad of other health problems such as heart attacks and strokes, which may lead to premature death or life long disabilities
Although kidney disease has numerous complex causes, research has shown that hypertension and diabetes are the most common. Hypertensive and diabetic patients with kidney failure present higher morbidity and mortality rates than those with normal kidney function.
The prevalence of CKD is expected to increase not only as a result of the rise in life expectancy but also as a result of the high prevalence of obesity, hypertension and diabetes in the general population. To date Nevis' Public Health Centres have on record 473 diabetic and 522 hypertensive patients and those figures are expected to increase."
The Junior Minister stressed that the best hope for reducing the human and socioeconomic cost associated with this epidemic lies in prevention.
She said in its efforts to promote healthy for all, the Ministry of Health on Nevis will continue to implement community health education programs, make screening for kidney diseases a primary healthcare intervention, ensure chronic kidney disease patients have access to and receive the basic health services they need to improve their quality of life, and encourage a multi-sectoral approach to non-communicable disease prevention by engaging partners in public sector and Non-governmental Organizations such as Nevis Renal Society which continue to highlight the importance of health education, proper nutrition and active living.