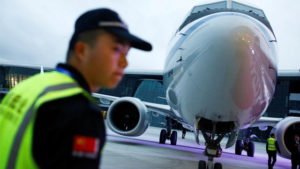 BEIJING — Responding to the second crash of a Boeing 737 Max 8 soon after takeoff in less than five months, China and Indonesia ordered their airlines on Monday to ground all of these aircraft that they operate.
The Civil Aviation Administration of China noted in its announcement on Monday morning of the grounding that both the Ethiopian Airlines crash on Sunday and a Lion Air crash in Indonesia in late October had involved very recently delivered Boeing 737 Max 8 aircraft that crashed soon after takeoff.
Indonesia joined China about nine hours later in also ordering its airlines to stop operating their Boeing 737 Max 8 aircraft.
he Chinese aviation regulator said in its announcement that it had notified Chinese air carriers at 9 a.m. that they had until 6 p.m. to take the planes out of service. VariFlight, an online flight tracking service based in Hefei, China, said that the last Boeing 737 Max 8 operated by a Chinese carrier was a China Southern Airlines jet that had left for Singapore 25 minutes before the ban took effect.
That plane did not land back at its base in Guangzhou, China, until 5:16 p.m., 44 minutes before the government's deadline, according to VariFlight.
The airlines of China and Indonesia are among the biggest users of the new Boeing jets, having taken delivery of most of the planes they have ordered so far.
After the Lion Air crash in late October near Jakarta, Indonesia's Ministry of Transportation grounded every Max 8 operating in the country. But after inspections were conducted last November, the planes were declared safe to fly. The ministry then grounded them again on Monday evening.
Separately, Boeing said it was postponing the external debut of its 777X plane, which had been planned for Wednesday. The company took the action in a statement in which it said it was "deeply saddened" by the Ethiopian Airlines Flight 302 crash.
On a commercial level, China's aviation sector could actually benefit from the tragedies in Indonesia and Ethiopia. A government-owned company in Shanghai has begun doing flight tests of a Chinese-made alternative to the Boeing 737, called the Comac C919. The C919 is the cornerstone of China's effort to build a commercial aviation competitor to Boeing and Airbus.
The C919 has already attracted hundreds of orders from air carriers in China's state-controlled airline industry, and it is scheduled to deliver the plane starting in 2021. But China has struggled to find overseas buyers beyond securing a handful of orders from tiny airlines in impoverished countries that are heavily dependent on Chinese aid.
The C919 still faces big hurdles before it could prove to be a viable competitor. Airlines worry that it won't be as fuel efficient as rival planes from Boeing and Airbus. Fuel is one of the main costs in operating a passenger airline, and even more important for international cargo airlines like FedEx, which have evinced little immediate interest in buying the C919. Big buyers would likely wait to see how the planes perform in China before making a commitment.
Another issue lies in how open about safety issues China will be. The country's safety regulator and the manufacturer, the state-owned Commercial Aircraft Corporation of China, have so far worked closely with foreign experts on safety.
An embarrassing crash could test how willing the company and regulators in Beijing would be to share information. When a high-speed train crashed in southeastern China in July 2011, the authorities quickly bulldozed the wreckage into pits and covered it over before investigators could even start trying to figure out what went wrong. The Chinese government also issued an order to domestic media not to cover the crash and not to do investigations into what went wrong.
Airlines might switch instead from the Boeing 737 Max 8 to the better-known Airbus alternative, the A320neo.