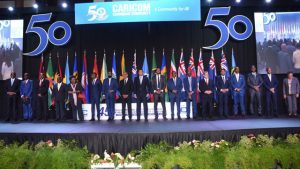 The two-day retreat planned for Caribbean Community (CARICOM) leaders to be held in Dominica next week, will no longer take place.
Well placed sources told the Caribbean Media Corporation(CMC) that the retreat, which had been scheduled for August 18-19, would not now take place, but could not give a reason at the time for the postponement.
The sources said that it appears that some of those expected to attend the retreat will not now be able to do so.
On Thursday, Trinidad and Tobago's Prime Minister, Dr Keith Rowley told a news conference in Port of Spain that he was travelling to Barbados next Thursday for a vacation with his family and would use the occasion to start talks with several personalities about the way forward for West Indies cricket.
"You know I have this assignment now to get involved in West Indies cricket, and I hope to start talking to some people there (in Barbados)," Rowley told reporters.
At the end of their 45th summit in Port of Spain last month, the regional leaders announced that the two-day retreat would allow for a review of a number of reports including regional governance and strengthening functional cooperation, ahead of their next mid-term summit scheduled for Guyana.
"I have made clear to all of us that we will lose the suits and ties and…we will be in T-shirts and jeans and shorts possibly focusing on some critically important issues of the community so that when we get to Guyana or even before we get to Guyana, we can put a number of issues in place and bring clarity to discussions and we're hoping that that can become a regular feature".
"These are the things which matter to the average person in the streets of the Caribbean Community- that they can see tangible benefits," Dominica's Prime Minister Roosevelt Skerritt told reporters at the end of the summit.
Asked to be more specific about the issues to be discussed at the retreat in Dominica, Skerrit said Guyanese President, Dr Mohammed Irfaan Ali in his presentation on food and digital security to the summit, highlighted the need for the region to address the issue of trade barriers, the global issue of governance within the community and taking stock of the geopolitics of the world "and how do we position ourselves…
"COP 28 is coming and we need to have a clearly defined position," he said, adding that it was necessary for the regional grouping to be singing from the same hymn sheet" as it relates to matters such as climate financing and the need for reform or transformation of the international financial system".