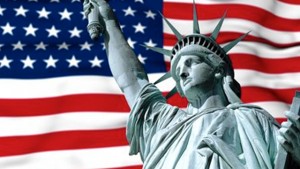 The United States Citizenship and Immigration Services (USCIS) says it will honor Presidents Day on Monday by welcoming 5,000 new US citizens, including Caribbean nationals, during naturalization ceremonies across the country.
On Monday, the US will celebrate Presidents Day to honour the birth of George Washington, the nation's first president and all presidents who have led the country.
Every year the USCIS marks the holiday with a week of special naturalization ceremonies across the country.
"Congratulations to the nearly 5,000 immigrants who will become US citizens around Presidents Day," said USCIS Director Leon Rodriguez.
"Citizenship is a critical component of immigrant integration. It provides immigrants with an equal footing and fosters a sense of belonging and inclusion that strengthens the bonds of shared ownership in society," he added.
"USCIS said its Deputy Director Lori Scialabba will provide congratulatory remarks to 200 people at a naturalization ceremony in Boston on Tuesday.
Immigration and Customs Enforcement Director Sarah Saldana will deliver the keynote address in Virginia on February 22.