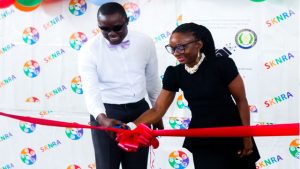 Basseterre, St. Kitts and Nevis – It is a historic moment as the Robomindset Summer Camp sets a new record with approximately 160 students immersing themselves in the world of robotics and coding. This groundbreaking event is the first of its kind, simultaneously happening in both St. Kitts and Nevis. Let us join together in congratulating the visionary leadership of the St. Kitts and Nevis Robotics Association (#SKNRA) for making this remarkable achievement possible.
The unprecedented participation of over 160 students at the Robomindset Summer Camp demonstrates the growing interest and enthusiasm for robotics and coding among the youth of St. Kitts and Nevis. This record-breaking number signifies the impact and importance of providing educational opportunities that foster innovation, critical thinking, and technological literacy.
Under the guidance of the SKNRA, these young minds are embarking on an incredible journey of exploration, learning cutting-edge skills, and unlocking their potential in the field of robotics and coding. The camp offers them a platform to develop creativity, problem-solving abilities, and teamwork, setting the stage for future success in a technology-driven world.
The visionary leadership of the SKNRA deserves our heartfelt congratulations for their unwavering dedication in promoting robotics education in St. Kitts and Nevis. Their commitment to nurturing talent, inspiring innovation, and shaping the future workforce is truly commendable. By organizing this groundbreaking camp, they have provided a transformative experience for these aspiring young learners.
As we witness this record-breaking event, let us celebrate the power of visionary leadership and the tremendous potential that lies within the youth of St. Kitts and Nevis. Together, we can create a brighter future driven by innovation, technology, and the skills imparted at the Robomindset Summer Camp. Congratulations once again to the SKNRA for their visionary approach and their invaluable contribution to the growth of robotics and coding education in the nation.