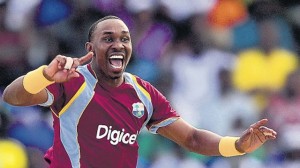 DELHI, India (CMC) — All-rounder Dwayne Bravo has spoken out in support of West Indies T20 captain Darren Sammy who faces possible disciplinary action for publicly criticising the West Indies Cricket Board (WICB) after the regional team won the T20 World Cup in India on Sunday.
Bravo says he and the rest of the champion West Indies T20 side are in full support of Sammy who hit out at the WICB for its lack of support to the players.
In an exclusive Skype interview from India with Trinidad and Tobago's CNC3 television on Tuesday, Bravo dismissed the WICB president as "immature" while describing the WICB as "the most unprofessional board" in the world.
"They are very small minded people, especially the president. There is nothing wrong with Sammy's speech. I support Darren Sammy 100 per cent. The entire team supports him," Bravo told CNC3.
"The players feel hurt and the time has come where we cannot take it anymore and someone needs to put a stop to it because the cricket is being run by people who do not have the interest of West Indies cricket at heart".
Sammy faces possible disciplinary action after a statement from the WICB described his comments as "inappropriate" and promised an investigation.
On Tuesday, the vice president of WICB, Emmanuel Nanthan, blasted Sammy's comments as "irrelevant, demeaning, insulting and unfortunate" and accused him of attempting to mislead on the issue of the delay in printing numbers on the players 'uniforms.
"I was not surprised with Sammy's speech. I think we had enough as players. A lot of people don't understand what we go through as players dealing with our board," said Bravo.
"It is the most unprofessional board in the world and I think Sammy spoke from his heart."
Meantime, the WICB president was again courting controversy for a controversial tweet which appears to target Sammy.
"When is the last time a critic paid one of your bills? Always remember that when you start to give them your energy." President Cameron is reported to have tweeted.
"I am not surprised by the president's tweet to be honest because it is expected of him," said Bravo.
"He is someone very immature".
In February last year, Cameron was forced to issue an apology after re-tweeting a cricket fan's message criticising opener Chris Gayle.
The incident occurred a few months after tensions flared between the WICB and WIPA after a tour of India was abandoned due to a contract dispute, costing the Board of Control for Cricket in India a reported $65 million.
"It is just like a personal war against his own people, his own players," declared Bravo.
"The president was in India and he is yet to come to the team to say congratulations, well done guys or anything like that. He cannot come to the dressing room."