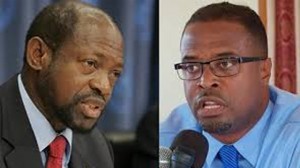 The St Kitts Nevis Labour Party Government recently took its series of Town Hall Meeting Dubbed "Conversations For Progress" to Nevis. During his feature address Prime Minister of St Kitts and Nevis paid tribute to His Excellency Dr Sir Simian Daniel. Prime Minister Douglas said that the International Airport of Nevis should have been named in his honor. He was also in high praise of
Hon Patrice Nisbett and Dr Kelvin Daley, men who Prime Minister Douglas said were born on Nevis soil and had contributed trimendously to the growth and development of the federation.
Meanwhile the Hon Mark Brantley Deputy Premier of Nevis has questioned Prime Minister Douglas's motives for taking conversations of progress to Nevis. Brantley during a recent CCM public meeting said that in 18 years the Prime Minister had never engaged the people of Nevis yet now he has problems according to Branltey he knows Nevis exists.