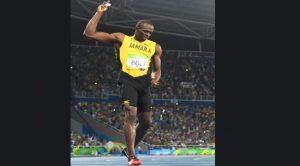 Having established two individual world records Usain Bolt said he would not be attempting to break his 9.58 and 19.19 clocking times to end his final season in glory."I have already said it, this season is for the fans," said Bolt, during a JN Racers Grand Prix press briefing yesterday at the Jamaica Pegasus hotel.
"People always want to see us break world records. But the fact is, I am the world record holder, so there is no reason to want to break the world record," Bolt reiterated, while he shared the podium with some of the best athletes in modern track and field.
World record holders David Rudisha of Kenya and South Africa's Wayde van Niekerk, along with America's most decorated runner, Allyson Felix; Great Britain's distance king Mo Farah; sprint hurdler Sally Pearson of Australia and triple jump sensation Christian Taylor of the USA, formed what is probably the greatest assembly of stars in one room at any one time.
"I always try my best to go out there and push myself. But to me, this season is all about just trying to win and continue winning and end my career on a winning note. So that's really my focus this season to try and get everything right," Bolt noted.
The incomparable Bolt received glowing tributes from his fellow athletes and they, too, are sceptical in lowering their personal bests which would be world records in the 400m and 800m for Van Niekerk and Rudisha, respectively.
"I know people love to see world records being broken. But to be honest, it's tough to see world record every time, but we going give our best," said Rudisha, who set the 800m world record of 1:40.91 at the 2012 London Olympics.
The 28-year-old Kenyan revealed that his father Daniel represented his country in Jamaica at the 1966 Commonwealth Games.
"I will be following in my father's footsteps. It's going to be very special because my father was here in 1966 at the Commonwealth Games," said Rudisha with a smile.
Van Niekerk, who set the 400m world record of 43.03 seconds running from lane eight at the Rio Olympics, played down any attempt to lower his record.
"I just want to focus on my national record before I can start to think about world record. But I mean, we need to honour Usain in what he has done for the sport. We want to give a show for Jamaica and thank Usain," he added.
The 31-year-old Felix, who is the most decorated American runner with three 200m World Championships gold and an Olympic gold in 2012, herself does not have an eye for records at this time.
"I have no records to be breaking," said Felix to loud laughter from the audience.
The versatile runner has personal bests of 10.89, 21.69 and 49.26 for the 100m, 200m and 400m, respectively. The 100 and 200m world records of 10.49 and 21.34 were established by Florence Griffths-Joyner in 1988. The 400m world record of 47.60 was set by German Marita Koch the year Felix was born in 1985.
"So for me it's just one step at a time and I am just happy to be back. I love Jamaica, I love competing here, it's always so much fun and I know it's going to be a special night paying tribute to Usain. So I am just looking forward to competing," said Felix.
Meanwhile, any realistic world record this year would be done by American triple jumper Taylor and he has promised at least a meet record at the Racers Grand Prix.
"I am a competitor. I like to rise to the occasion, but it's difficult for me to challenge myself without competition there. I just love a fight and I love a challenge," he added.
With a personal best of 18.21 which is just eight centimetres outside the triple jump world record of 18.29, Taylor is the closest person to breaking a world record this season.
"I want the world record. I sit next to world record holders and I believe that if you surround yourself with the right people they can bring me along," said Taylor.