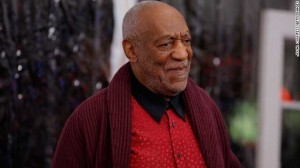 (Reuters) – Comedian Bill Cosby will not comment on "discredited" accusations of sexual assault that have resurfaced in recent weeks against him, his lawyer said yesterday.
Allegations that Cosby, 77, drugged and sexually assaulted several young women decades ago gained renewed attention after comedian Hannibal Buress called him a rapist during a stand-up comedy routine last month.
"Over the last several weeks, decade-old, discredited allegations against Mr Cosby have resurfaced," said John P Schmitt, Cosby's attorney, in a statement. "The fact that they are being repeated does not make them true."
Neither Cosby nor his representatives will comment further on the allegations, Schmitt added.
The lawyer's statement comes a day after the airing of a National Public Radio interview in which Cosby, who is married, declined to answer questions about the sexual assault accusations. He has never been charged with the alleged crimes.
Among his accusers is former aspiring actress Barbara Bowman, who wrote in a Washington Post op-ed this month that Cosby had assaulted her on multiple occasions in 1985, when she was 17, including one occasion when he drugged her at his New York City brownstone.
Bowman said she never went to the police because she feared she would not be believed.
She said she had prepared to testify in a lawsuit filed by another woman, Andrea Constand, who claimed Cosby drugged and sexually assaulted her. That suit was settled in 2006 for an undisclosed amount of money, and Bowman never testified.
Another woman, Tamara Green, came forward in 2005 saying Cosby drugged and groped her when she was a 19-year-old model in the 1970s.
Cosby is best known for playing Cliff Huxtable, the father of an affluent African-American family on the TV sitcom "The Cosby Show" that was a top-ranked program from 1984 to 1992, making Cosby a wealthy man.
He is currently developing a new sitcom for NBC.