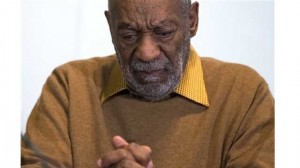 Bill Cosby has spoken out about the sexual assault allegations against him, asking "the black media" to stay objective as victims continue to come forward.
"Let me say this. I only expect the black media to uphold the standards of excellence in journalism and when you do that you have to go in with a neutral mind," he told the New York Post's Page Six.
The 77-year-old comedian also praised his wife of over 50 years, Camille, who has stood by him throughout the controversy.
"Love and the strength of womanhood," he said. "Let me say it again, love and the strength of womanhood. And, you could reverse it, the strength of womanhood and love."
Cosby faces accusations of rape and assault from more than a dozen women, many of them young, aspiring actresses during his heydey.
But his lawyer, Martin Singer, denies their reports.
"The new, never-before-heard claims from women who have come forward in the past two weeks with unsubstantiated, fantastical stories about things they say occurred 30, 40 or even 50 years ago have escalated past the point of absurdity," Singer said in a statement on Nov. 21.
The latest to tell her story is supermodel Beverly Johnson, the first black woman to grace the cover of Vogue.
"At the time it happened, Bill Cosby was on top of the world, and he was very powerful in Hollywood," Johnson, 62, told PEOPLE on Thursday, "and I was in Hollywood trying to make this transition from model to actress, and so I had a lot of fear about speaking out."