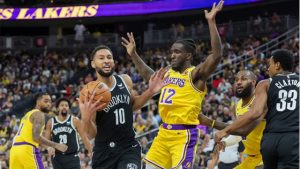 Throughout Nets training camp, Ben Simmons' teammates, coach and the point guard himself stressed he finally appeared healthy after back-to-back injury-plagued seasons.
Monday night's preseason opener in Las Vegas marked the first opportunity for those outside of the Nets' practice center to see how the three-time All-Star looked for themselves.
Simmons' return was one of several key storylines in Brooklyn's 129-126 loss to the Los Angeles Lakers at T-Mobile Arena.
Here are the biggest takeaways:
SIMMONS' STATUS
The 6-foot-10 Simmons played aggressively, moved well and delivered multiple highlight-worthy plays in his first game action since a nerve impingement in his back ended his 2022-23 season after just 42 games.
Simmons didn't need much time to make an impression, scoring the Nets' first basket on a drive that he finished with a clean hook shot over the defending LeBron James. Three minutes later, Simmons cut through traffic, received a bounce pass from Cam Thomas and made a tough shot off the glass despite being fouled by Taurean Prince.
His most explosive play of the night came in the second quarter when Simmons raced in transition to secure a wide pass and elevated for an emphatic, two-handed dunk.
Simmons played 14 minutes and finished with 10 points on 4-of-6 shooting, along with three assists, a rebound and a steal.
"This is the best I've felt in two years, for sure," Simmons, 27, said afterward. "Definitely."
Simmons underwent back surgery in May 2022, shortly after the Nets acquired him in the midseason trade that sent James Harden to Philadelphia.
He made his Nets debut last season but only averaged 6.9 points, 6.3 rebounds and 6.1 assists per game – well below his career averages. Simmons has said he played hurt last season and felt he was finally able to heal over the summer.