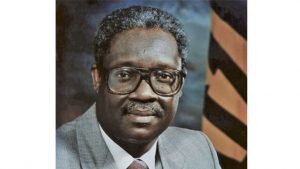 Prime Minister Mia Mottley has praised the contribution of former prime minister Sir Lloyd Erkine Sandiford, who died on Monday at the age of 86, describing him as a true statesman who served Barbados with honour and the wider Caribbean with distinction.
In a brief statement on its official Facebook page, the main opposition Democratic Labour Party (DLP),which Sandiford headed, noted his passing adding that the DLP "family mourns the passing of Sir Lloyd, 1937–2023, former Prime Minister of Barbados and Leader of the Democratic Labour Party.
"His Lord said unto him, "Well done, good and faithful servant…Condolences to Sir Lloyd's family. May he rest in peace," it said.
Before ascending to the highest political office on the death of Prime Minister Errol Barrow on June 1, 1987, Sir Lloyd had long been credited as the most significant post-independence education minister, particularly in developing the Barbados Community College and opening new primary and secondary schools.
His brainchild, the development of Sherbourne as a national examination centre, eventually became the island's premier convention centre, which bears his name.
In her tribute, Mottley, who is on an official visit to China, said "again, it is with a sense of deep sadness, that I say goodbye to yet another Barbadian nation builder, a true statesman, and without doubt a through and through gentleman of post- Independence Barbadian politics".
Mottley said in her statement, said the former prime minister, who served as Barbados fourth head of government from 1987 to 1994, had the distinction of maintaining a political career of more than three decades without a single instance in which bad behaviour or the use of the robust language and colourful metaphors so common to Caribbean politics has been attached to his name.
"In fact, those who knew him well might argue that the only feature of his personality that could have possibly rivalled his ever-gentle spirit, was his capacity to take a position on any matter and remain resolute and unmoved, even in the face of the most unrelenting pressure. Sir Lloyd was what Bajans would respectfully describe as, 'his own man' at all times."
She said no review of Sir Lloyd's sterling contribution to Barbados would be complete without a tribute to his leadership of the Ministry of Education, adding that his tenure included the establishment of the Barbados Community College, an institution at which he not only subsequently taught, but which has changed the future of thousands of Barbadian young people.
Mottley said that it is "ironic that as I issue this statement, I am in China" where Sandiford served as the country's first resident ambassador in Beijing from 2010 to 2013.
"Sir Lloyd demonstrated his magnanimity of character and dedication to public service by agreeing, having completed service as Prime Minister, to once again serve this country as Barbados' first resident Ambassador to China.
"Sir Lloyd was also a genuine and dedicated regionalist and as Prime Minister, he took the decision to take Barbados deeper into the regional integration process by signing on to the Grand Anse Declaration, which eventually led to the establishment of the Single Market and Single Economy," she added.