NASSAU, Bahamas, Monday June 13, 2016 — The Royal Bahamas Defence Force (RBDF) has apprehended 199 Haitians off the west coast of the Bahamian island of Andros. The BDF was on routine patrol near north Andros last Friday when it was diverted to investigate the sighting, which was initially reported by police in Red Bays, North Andros.
The military officers found the Haitians aboard a wooden sailing sloop. "The migrants were in urgent need of food and water, which were provided by locals from the Red Bays community," said a statement from the RBDF, which also indicated the the immigrants were transported by a Defence Force vessel to New Providence and handed over to immigration officials yesterday.
Acting Commander at the Defence Force, Captain Tellis Bethel, commended Superintendent Arnette of the North Andros Police Station along with his team for assisting the Defence Force with its maritime operations;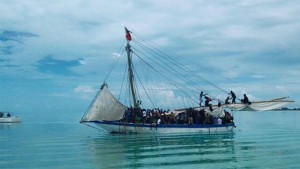 the outstanding local fisherman and resident of the area for helping Defence Force patrol craft to locate and secure the wooden sailing vessel; and the Red Bays community for providing food, water and other critical logistical support, which prevented loss of life.