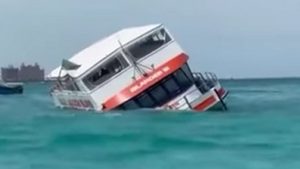 An autopsy has been performed and the results completed in relation to a 75-year-old American woman who died during a boating incident in The Bahamas on Tuesday involving the Blue Lagoon vessel. The elderly woman was a cruise passenger who was visiting from Colorado.
Commissioner of Police Clayton Fernander in a media conference on Thursday said an autopsy had been completed and while he would not be disclosing the results, he assured the media the US visitor's death was not as a result of drowning.
The police commissioner said there were 119 people on board the vessel when it overturned in which the 75-year-old woman died.
The matter remains active, with preparations being made to remove the boat from the waters assisted by divers and a crane to bring it to land to assist with investigations.
On Tuesday sometime around 9:30 am, the pleasure craft left from the ferry dock with over 100 passengers onboard en route to Blue Lagoon.
Reports indicate half an hour into the ride the vessel experienced rough seas in the area which resulted in the boat taking on water and becoming submerged in waters just outside Blue Lagoon.
As a result of the incident, one casualty was recorded, a 75-year-old American woman. Police say she was on a five-day family cruise vacation and The Bahamas would have been their second stop.