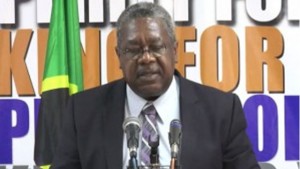 Ten months after taking Leader of the Opposition, the Right Hon. Dr. Denzil L. Douglas to court for possession of a Diplomatic Passport of the Commonwealth of Dominica, St. Kitts and Nevis' Attorney General Hon. Vincent "Juicy" Byron has asked for another adjournment.
Byron, on the political instructions of Prime Minister Dr. the Hon. Timothy Harris, filed the case in February and after several adjournments, was rescheduled to continue before His Lordship, the Hon. Mr. Justice Trevor Ward QC on December 10th and 11th.
Byron has requested another adjournment, to which the defence team of the Right Hon. Dr. Denzil L. Douglas has agreed.
During a hearing Byron indicated he wanted to produce expert evidence on Dominica law which was later withdrawn, but in July, Justice Ward ruled that the Attorney General must produce expert evidence in the matter.
The Attorney General has indicated that the individual is said to be unavailable for the two-day hearing next week.
The Defence Team already has an expert witness as it is of the view that such evidence is required to assist the Court to make a determination of Dominica's law on a number of issues including citizenship, statutory requirements and obligations and oaths for passports – ordinarily, diplomatic or otherwise.
Initially the Attorney General's case against Dr. Douglas was on the premise of citizenship to which a letter from the Ministry of Foreign Affairs in Dominica has completely debunked.
Dominica's Prime Minister Hon. Roosevelt Skerrit offered Dr. Douglas a Diplomatic Passport after Prime Minister Harris refused to approve and issue a St. Kitts and Nevis Diplomatic Passport to Dr. Douglas, in his new status as Leader of Her Majesty's Loyal Opposition.
Dr. Douglas has voluntarily agreed and has provided all the information of his use of the diplomatic passport to Justice Ward.