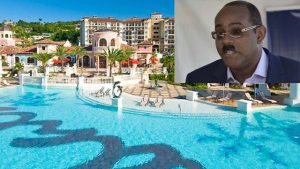 Antigua and Barbuda's Prime Minister Gaston Browne has called for urgent talks with Sandals Chairman Gordon 'Butch' Stewart following the announcement of a temporary closure of the resort in the twin-island nation, even as he raised concerns that the hotel chain's move could be "a play for additional concessions."
The leading Caribbean resort chain says it is closing the Sandals Grande Antigua from September 20 for a five-month period, which includes the busy winter period.
In a statement to Observer Media, Browne revealed that Sandals had recently made a request for Cabinet to waive the duties and taxes on food and beverages, but that request was denied on the grounds that it would significantly reduce Government's tax revenues.
"It was explained to Sandals officials that the Government's finances are in a very precarious position, and that if we waived duties and taxes on food and beverage, it would plunge the Government's finances into a crisis. This is particularly so, considering that we just gave up over $35 million by abolishing Personal Income Tax.
"We undertook to review the request in 12 months. It would appear that this decision was not to their satisfaction and that the closure is a play for additional concessions," he said.
Sandals served notice of its intention to temporarily close the property in a letter dated July 14.
Chief Operations Officer Shawn Dacosta informed the Antigua and Barbuda Workers' Union (ABWU) that the hotel would be closed "to undertake essential maintenance works".
At least 700 workers at the Dickenson Bay property will be affected when the hotel closes for the first time in 25 years.
Prime Minister Gaston Browne warned that the closure of the hotel over the next five months would be "self-defeating", and insisted that the Government would "stand firmly with the employees and the people".
"We are a resilient people who are not unaccustomed to challenges. This too shall pass. At the end of the day, everything will be alright," he said.