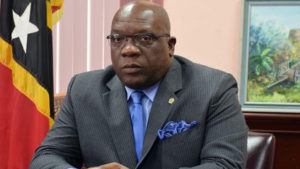 Antigua's Minister of Education Michael Browne has made startling allegations against St. Kitts Nevis Prime Minister Dr. Timothy Harris, claiming PM Harris told Antigua and Barbuda Prime Minister Gaston Browne that if the Education Minister spoke at an Opposition Labour Party launch in St. Kitts on Saturday it would be "a declaration of war and we would not be able to guarantee his safety".
The Antigua Cabinet Minister had been invited to speak at the official introduction of Leon Natta-Nelson, the St Kitts and Nevis Labour Party candidate for Constituency 7, a seat currently held by Prime Minister Harris.
This is what the Antigua Minister revealed at the event held in Ottleys Village on Saturday:
"About after midnight last night the Prime Minister of St. Kitts and Nevis called my Prime Minister and he expressed abhorrence that I am coming into St. Kitts to speak at this function. So the charge was that my presence here, me coming here to speak, is a declaration of war, and so there was a boomeranging of thoughts in my mind all morning while I was at the Strip, while I was having breakfast while I was working the phones including the good efforts of your Comrade Leader; and these were some of the concerns that troubled me coming from a democratic perspective- If Michael Browne speaks, not only will it be a declaration of war but we will not be able to guarantee his safety. If he speaks, not only will we not be able to guarantee his safety, but he may not be permitted to come back to St. Kitts."
Speaking with Freedom FM, first time candidate Leon Natta-Nelson said he was both disappointed and disturbed hearing that such inflammatory comments had come from someone in a position such as Prime Minister Harris.
"First I want to that Minister Browne for accepting the invitation and coming to speak. This is not his first visit to St. Kitts; he was here two conferences ago for the St. Kitts Nevis Labour Party. As to the comments, I think the crowd was shocked and disturbed which were similar to the feelings I had. However as disappointing as they were I wasn't shocked because of all the sentiments expressed by Timothy Harris and his behavior. Look at his open forum in Tabernacle when he said what he said about his Cabinet colleagues, so I may not have expected he would have gone to that length towards a minister of government from another island.
"It was very disappointing, disheartening and sad to see the lengths that he would have gone to express those types of things about a minister of government from another country. Think about the ramifications, when you that level of threat to a sitting minister of government to another island tat must raise alarm for the leader of that country. How do you foster a relationship knowing that a prime minister from another country has seriously threatened the life of one of your ministers. That makes no sense and Timothy Harris needs to be held accountable for that; I think this can have serious repercussions on the relationship, not only for Antigua but throughout the Caricom because this has set a negative trend of the behavior and perception of the Prime Minister of St. Kitts and Nevis. We should have an outcry from the people to ask him to apologize or to make mention of it to say exactly what he said so that we can have some clarity and understanding as to why he would have said those comments to the Antiguan Prime Minister."
Chairman of the St. Kitts and Nevis Labour Party Dr. Terrence Drew also weighed in on the issue.
"
Freedom FM's attempts to reach Prime Minister Harris for comments on this matter have so far proved futile, however a statement was issued by the Prime Minister's office shortly after midday on Monday.
It read in part:
"The attention of the Office of the Prime Minister has been drawn to an unfortunate and malicious statement from the Opposition Labour Party regarding certain conversations between the Honourable Prime Minister of St. Kitts and Nevis and his colleague, the Honourable Prime Minister of Antigua and Barbuda.
For the public record, the said Minister arrived in St. Kitts and Nevis on a private political mission, and yet was warmly welcomed by a protocol officer from the Ministry of Foreign Affairs and another officer who drove him to the Marriott Resort. The Minister was further assisted with his departure in a similar manner by the Government of St. Kitts and Nevis. At no point before or after his arrival were any threats made or was anyone's security at risk.
It is well known that Ministers of Government traveling on private business are usually not accorded protocolary services of the visiting State.
It is unfortunate that in spite of kind courtesies in facilitating a Minister on his private political mission, the said allegations would emerge.
The Office of the Prime Minister will not be drawn into a distraction of the moment.
Having regard to the excellent relations between our two governments and between our Prime Minister and his counterpart in Antigua and Barbuda, the Office of the Prime Minister assures that Prime Minister Dr. the Honourable Timothy Harris and Prime Minister the Honourable Gaston Browne have excellent relations and converse regularly on a range of issues of mutual interest to our two countries – and this will continue. The Prime Minister of St. Kitts and Nevis, in keeping with well-established protocol, will take care to preserve the confidentiality of such conversations."