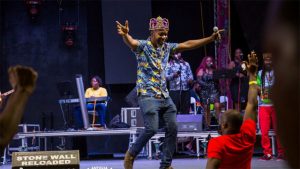 Leston Jacobs, who goes by the stage name 'Young Destroyer' has made good on a promise to his father to bring home a Calypso crown.
He did so after dethroning reigning monarch King Zacari on Friday night at Carnival City, Antigua.
While the seasoned artist has secured various titles in the past, this achievement stands out as the first national win in his 33-year career.
"My father was a competitor in the Calypso competition for years so, I used to watch him and see when he lose and when he don't get what he think he deserve … I use to just say 'look, daddy don't cry, I'm gonna beat them'," he explained to the media during a post-event interview.
According to Young Destroyer, preparation for the competition was challenging as he had to learn both his songs in addition to assisting his two young children with preparing for the Junior Calypso Monarch.
"It was hard for me because I had my two kids in the Junior Calypso competition so I had to work with them and still try and work with myself. And after the Junior Calypso competition then is when I put more emphasis into me and to mine," he shared.
His song titled 'Respect Your Own,' also earned him the award for Best Social Commentary – an accolade he credited to his father. The song is a political commentary about the events that took place leading to the January 2023 general elections.
"Well, that was a shocker to me because you know, I've never won that award" …" All that is basically my father. My father is the writer of the song so best Social Commentary should really go to him as the artiste. So, this whole prize that I won for Best Social Commentary I'm just going to take it to my father one time," he stated.
Last year, the award for Social Commentary took the format of a category and was won by 2022 monarch Trevor 'King Zacari' King. This year King Zacari placed first runner up in the competition while third place position went to King Fiah