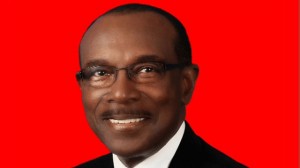 ST JOHN'S, Antigua – "Effective immediately," Antigua & Barbuda has instituted a travel ban on people coming from Sierra Leone, Liberia and Guinea, the three West African countries currently stricken with a significant number of cases of the deadly Ebola virus.
In an exclusive interview last evening, Minister of Health Molwyn Joseph said the decision was made yesterday and follows a presentation by the Ministry of Health, to the Cabinet, on Wednesday.
Chief Medical Officer Dr Oritta Zachariah made the presentation in the presence of other health officials, to include, Minister Joseph, Chief Health Inspector Lionel Michael and Dr James Knight.
In a prepared statement the minister said: "All travellers from Guinea, Liberia and Sierra Leone will not be allowed to enter Antigua & Barbuda and, the granting of visas for these countries has been suspended. The decision also applies to anyone who travels to Antigua & Barbuda within 21 days after departing any of these countries."
The minister indicated that Cabinet further recommends that citizens and residents of Antigua & Barbuda should defer their travel to these countries until further notice.
And, Cabinet, he said, further advises that the authorities here reserve the right to quarantine any resident or citizen returning to Antigua & Barbuda having visited these countries after the issuance of this ban.
Joseph noted the country does not receive any direct flights from the affected West African countries, and therefore, the risk of an infected person getting into Antigua & Barbuda is further minimised.
The twin island state is the fourth country in the Organisation of Eastern Caribbean States (OECS) to impose the restriction.
The other OECS countries with a ban in place are St Vincent and the Grenadines, St Lucia and St Kitts/Nevis. Joseph noted the OECS ministers discussed the issue and arrived at similar decisions.
The health ministers of the Caribbean region met in St Vincent this week to discuss their approach to Ebola, as well as measures to tackle the mosquito borne chikungunya virus.
Joseph, who said he was unable to attend the meeting due to the passage of Tropical Storm Gonzalo over Antigua on Monday, said he's aware of what took place at the meeting in St Vincent.
The minister further disclosed that the government has established a public health emergency fund and a decision was "just" made that Medical Benefits would make the first contribution of $500,000.
He said the money would be used to purchase personal protective equipment, such as gowns, head covering and goggles among other things.