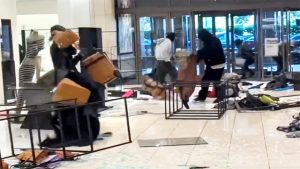 Days after a mass robbery at a Los Angeles-area mall, a large group of thieves swarmed another business and made off with at least $100,000 in clothing and merchandise within minutes, police said Thursday.
The "flash rob" happened Tuesday when about a dozen people in hooded sweatshirts and masks entered a clothing store on South La Brea Avenue, police said.
They ransacked displays before they took off with the items and fled in multiple vehicles, officials said. The store was not named
On Saturday, about 50 people swarmed a Los Angeles mall and fled with high-end handbags and other items worth about $300,000, police said. The crimes occurred at a Nordstrom store at Westfield Topanga Mall in Woodland Hills, police said.
The people involved in the Nordstrom theft may have been following orders from organized crime or gang members, Deputy Police Chief Alan Hamilton said.
"There's no doubt that there's a lot of … criminal organizations behind this. Some of it involves gang members; some of it involves people that are what you would identify as professional retail thieves," Hamilton said. "It runs the gamut, and there is a black market for purchasing these items, unfortunately. … The same people [are] then turning around and committing these acts again, over and over again."
On Aug. 8, a similar robbery occurred at Yves Saint Laurent at the Americana at Brand mall in nearby Glendale, NBC Los Angeles reported. About $300,000 worth of items were stolen before thieves left in vehicles.
In 2021, communities throughout California faced similar quick-hitting thefts.