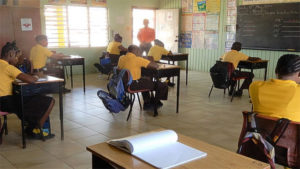 Valley Primary School Grade 6 pupils learning while socially distanced.
ANGUILLA–The Ministry and Department of Education announced that term three of the 2020 school year, which began on Monday, May 11, will end on Friday, July 24.
Although the majority of students will continue their school work using e-learning platforms in their homes until further notice, primary school pupils in grades five and six returned to the classroom for half-day sessions and Albena Lake-Hodge Comprehensive secondary students in forms five and six returned to the classroom and their regular schedule. Parents with children in the grades designated to return to the classroom, but who did not want their children to attend, were allowed alternate arrangements.
The social-distancing protocol has been implemented with desks arranged to ensure a minimum of three feet between each student. In those instances where protocol spacing requires additional classrooms, teaching assistants have been assigned to help. Break times will be staggered and custodians will actively supervise student interaction during breaks.
The ministry assured all stakeholders that every effort had been made to ensure the safety of both students and staff. All schools were thoroughly sanitised prior to the return of students. Hand sanitiser is available in the classrooms and bathrooms will be cleaned and monitored to ensure they remain in a hygienic state. Desks and frequently touched surfaces will be sanitised at intervals during the day and the interior of school buses will also be cleaned and sanitised daily.
Following several meetings with the pre-school sector, it has been decided that due to the differences in facilities and available resources at each school, the owner of each pre-school will decide whether their school can be safely reopened.
The Ministry and Department of Education sourced and loaned laptops to students not having access to a device, free of charge unless the laptops are damaged. Additionally, the government approved the removal of importation Customs duty on laptops for all primary and secondary school students. The ministry is continuing to pursue suitable arrangements with Internet providers for Internet access for students needing it.
Parents were advised that children who are sick, coughing or demonstrating any signs of respiratory illness must remain at home. Students developing such symptoms during the school day will be isolated until collected from school.
Principal Michael Skellekie of the Valley Primary School said, "Students and teachers are excited to be back at school; you see it on their faces. With grades five and six now attending school in the morning until noon, we have about a third of the school population – which is approximately 113 students – participating in this blended learning initiative. They continue their classroom assignments set by their teachers when they return to their homes in the afternoon."