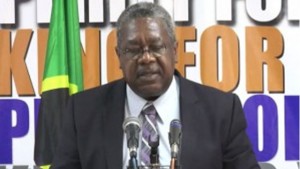 Old or New boundaries for the upcoming election? Attorney General, Minister responsible for Electoral Affairs, Vincent Byron Jr. maintains, that will be determined by the court.
"We would remember there is in place an injunction handed down in February 2015 that requires that until there is a further order of the high court that the report that had been passed by parliament and issued and had been out of time; until there's a further order by the court that that could not be used, there is before the high court a challenge to that report that has yet to be determined, but until the court so determines there had been in place the existing of what people colloquially as old boundaries or existing boundaries- so that in a nutshell deals with questions of boundaries."
He said there are other outstanding matters that would influence the government's electoral reform agenda.
"There's also an issue of a bill that was tabled in terms of an amendment to the National Assembly Elections Act that still has to go forward to deal with questions of residency as well as other aspects in the management of the electoral process, and these are all pending and are part of the process of good governance as we go forward."
The Attorney General however has full confidence that there is enough time to have all matters dealt with ahead of the upcoming federal elections, due by August 2020.
"Elections are constitutionally due by August 2020. We have some 14 months to go which horizon we see but we believe that there is more than enough time for us to conclude whatever agenda we go forward with. I should point out that although elections are constitutionally due by August 202, we still have this in the back pocket of the prime minister and so we wait to hear when he will pull it out."