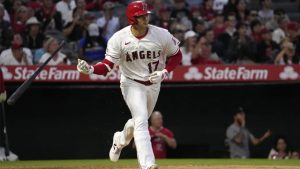 Shohei Ohtani's AL MVP odds aren't reaching "Victor Wembanyama to go first overall in the NBA draft" levels yet, but they might as well be.
After another historic game on Wednesday, BetMGM shifted Ohtani's odds to win AL MVP to near-lock territory, even though there is a half of a season to go.
Ohtani is -1400 to win AL MVP. Texas Rangers shortstop Corey Seager is second in the odds, and he's 35-to-1. Ohtani isn't just the massive favorite, nobody else's odds are even in the same time zone.
If Ohtani doesn't end up winning another MVP award at the end of the season, it's going to be a massive upset.
Shohei Ohtani a shocking favorite for MVP
To put the -1400 odds (which means someone betting $140 would win just $10) in perspective, the implied odds are 93.3 percent that Ohtani wins MVP.
That seems crazy this early in the season. Ohtani's Los Angeles Angels have played 81 games, with 81 to go. A lot can happen in a half of a season. Players behind Ohtani can get hot. Ohtani can theoretically have a slump, though that has been rare in his MLB career. There's a lot of baseball to be played.
It's very rare to see someone in any sport have MVP odds like that with half of a season to go. But Ohtani is on another level, and it helps him that no other viable contender has emerged (last year's winner, Aaron Judge, has missed plenty of time while on the injured list this season).
Bettors weren't bothered by the short odds on Ohtani to start the season. He was +200 to win MVP before the season started, which seemed way too short for a market like that. But bettors kept taking him and the odds have keep getting shorter. Ohtani is the most-bet player in the AL MVP market: 42.8% of the money is on Ohtani.
That means a lot of bettors are happy.
Ohtani has been a sensation his entire career, dominant as a pitcher and a hitter. On the verge of hitting free agency after the season, Ohtani is having his masterpiece season.
Ohtani has 28 homers and 64 RBI, leading the majors in both categories. He also leads the majors in slugging percentage and OPS, and he's hitting .304. That alone would make him an AL MVP favorite. On the mound he's 7-3 with a 3.04 ERA, and 127 strikeouts in 95.1 innings. Ohtani, arguably the best hitter in the majors this season, is also fifth in the AL Cy Young odds.
On Tuesday night, Ohtani struck out 10 in 6.1 innings, allowing just one run to the Chicago White Sox. At the plate he went 3-for-3 with two homers. He's just the sixth pitcher with two homers and 10 strikeouts in a game since the mound moved to it's current distance in 1893, according to ESPN Stats and Info. That's why his odds took a sharp drop to -1400.
Other than an injury, it doesn't seem like Ohtani's odds will move the other way the rest of the season. It's weird to say it before July, but the AL MVP race seems to be over.