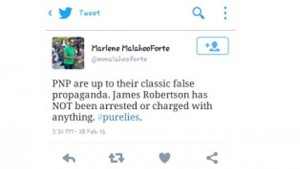 BEFORE the break of dawn yesterday, rumours began circulating on various social media platforms that the tables had turned and the People's National Party (PNP) had won the elections.
Fuelled by the speculation, PNP supporters in East Kingston and elsewhere took to the streets to celebrate.
But the Electoral Office of Jamaica (EOJ) quashed the rumours late in the afternoon, with a news relase stating that the Jamaica Labour Party (JLP) still maintained the majority.
"At the end of the counting on Saturday, February 27, the final count was completed in 40 of 63 constituencies. The overall seat count at this stage shows the JLP with 32 and the PNP with 31. This has not changed during Sunday's counting which continues in the remaining constituencies," the EOJ said.
In another release, JLP General Secretary Dr Horace Chang called on Jamaicans to respect the integrity of the electoral process.
"The people have rejected the PNP, yet we are hearing that they still seek to take power through the back door. We as Jamaicans must be vigilant about any attempt to discredit the electoral process or to halt the prompt and effective transition of government in the interests of the Jamaican people," Chang said.
He said that even with a loss of the one seat to the PNP, that had not changed the fact that the JLP had retained majority of the parliamentary seats.
He also added that the JLP will be contesting the results of the St Mary South Eastern seat that was awarded to the PNP after the official recount in that constituency.
"We also feel confident that that result will be overturned at the end of the magistrate's recount," Dr Chang stated.
Outgoing Prime Minister Portia Simpson Miller also called on Jamaicans to remain calm.
"All Jamaicans have a responsibility to ensure that Jamaica's reputation as a mature democracy is preserved and nothing causes hurt to anyone," said Simpson Miller in a statement.
She said that the country has made important economic gains which Jamaicans cannot afford to reverse at this time and everyone must ensure that they put Jamaica first.
The official recount is set to continue today.