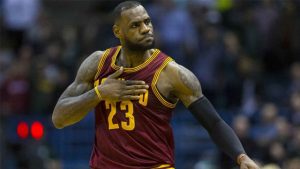 The Cleveland Cavaliers have quickly become the NBA's best summer soap opera, complete with a front-office shake-up and a star player asking for a trade.
So what's going on with the defending Eastern Conference champions, who just last month finished a near-perfect run to the NBA Finals before falling to the Golden State Warriors? Our panel of experts breaks down who's to blame for the Cavs' already wild offseason.
1. How much is Kyrie Irving to blame?
J.A. Adande, ESPN.com: 60 percent. If the situation works, the main requirement is to continue rowing in the same direction. Instead, Irving rocked the boat. It's not as if there weren't other options: Fix it, or wait for LeBron James to leave.
Tom Haberstroh, ESPN.com: 20 percent. "The disease of me," coined by Pat Riley, infects almost every champ. You win it all, as Cleveland did in 2016, and then suddenly everyone wants to claim more credit and power. The mess in Cleveland starts at the very top, but the timing is on Kyrie. If he made this request immediately after the Finals loss or before the draft, this would be a lot easier for everyone involved.
Dave McMenamin, ESPN.com: 40 percent. This only happens because Irving put the trade request in. After making it to three straight Finals. After winning a ring. After having the best statistical season of his career with James still getting his. So Irving is culpable here. But he doesn't shoulder everything. He signed an extension in 2014 under the premise he'd be the face of the franchise. LeBron wasn't a consideration. Eleven days later, the King returned and this outcome became a reasonable inevitability for a headstrong star.
Ramona Shelburne, ESPN.com: 50 percent. Ultimately, Kyrie is the one asking for a trade, so he's the main actor in the saga. Everyone else is responsible to the extent they didn't keep Kyrie from asking for a trade, whether by presenting him with a vision for a future he'd want to be a part of, or in contributing to the ecosystem he wants to leave. Just because he's the most to blame, though, doesn't mean this is a bad thing for the Cavs. If Cleveland gets a good return for Irving, this might actually be good for the franchise long term, as the Cavs can look for young players who complement James' skill set and restock some of their assets after living for today the past few years.
Brian Windhorst, ESPN.com: Zero percent. I don't think he's to blame at all. He wants a change of situation. I question his timing; I think he put his legacy on the line needlessly. He's going to have to achieve at an extremely high level to not be remembered as the guy who wanted to leave LeBron. I think if he waited a year, his options would be so much better. But if he wants to go now, he has the power to ask.
2. How much is LeBron James to blame?
Adande: 10 percent. If LeBron envisions himself as a leader, he could find a way to address Kyrie's concerns and empower him. But if the biggest problem is that LeBron's greatness overshadows everyone else on the team, he's not truly "at fault."
Haberstroh: 5 percent. LeBron James is one of the best players ever, if not the best. Expectations of greatness from teammates come with the territory. Michael Jordan was ruthlessly demanding and antagonistic — and we worshipped him for it. It'd be hypocritical to praise Jordan and Kobe Bryant for their demanding nature but cast a large chunk of blame on LeBron.
McMenamin: 10 percent. An all-time talent like James is going to suck up most of the air in the room. That's just how the world works. While doing so, he helped Irving achieve the greatest feat a basketball player can experience. If there's blame, it's the notion that James' camp leaked Irving's request, which signifies he's OK with having played his last game with Irving and prepared to work with the pieces that Irving will attract on the trade market.
Shelburne: 10 percent. He's culpable in that his reticence to commit long term to the Cavs is what's destabilizing the franchise right now. But knowing Kyrie's personality, and drive to push himself, this may have been inevitable.
Windhorst: Zero percent. I don't blame LeBron. Everyone knows the deal. He can be tough to play with. He will yell at you. He will blame you at times. He will subtweet you. He will get most of the glory. He will get you paid. He will get you championships. He will make you relevant. He will make you more famous. Most have been willing to take the deal. Kyrie is opting out.
3. How much is the Cavs' ownership/front office to blame?
Adande: 29 percent. They let the GM who presided over the best run in franchise history get away and they couldn't resolve the Kyrie Konundrum before it got out, set the NBA ablaze and scorched his trade value. Oh, and Dan Gilbert had to apologize for his company's tone-deaf ad in Detroit. Not a good summer.
Haberstroh: 70 percent. Maybe the Cavs' brass shouldn't have let David Griffin go. Maybe the Cavs' brass shouldn't have run the GM out without a successor in place. Maybe the Cavs' brass shouldn't have waited until almost August to name a new GM. This is a leadership failure from the top down, the down up.
McMenamin: 40 percent. Here is an indisputable fact: David Griffin, when he was Cleveland's GM, had countless conversations with Irving in order to assuage the young star and recalibrate Irving's personal goals to sync up with the Cavs' team plans. Then Cavs owner Dan Gilbert failed to extend Griffin's contract. Then Irving requested a trade. That's the chain of events. And all of that was after Irving played under four coaches in six seasons. The Cavs' brass is complicit in this mess.
Shelburne: 30 percent. The only chance the Cavs had at keeping this alliance together was to create a culture both LeBron and Kyrie wanted to be a part of long term. Instead, the Cavs have devolved into a rather rudderless collection of talent and egos. That's on ownership/management because, quite frankly, everyone else has been fired.
Windhorst: 25 percent; definitely some. We'll never know what would've happened had the Cavs kept Griffin. Would he have been able to trade for Paul George? Would he have managed Irving's frustrations and smoothed them over? No one will ever know, but that's a question Gilbert is going to have to deal with for some time.
4. How much are the Warriors to blame?
Adande: 1 percent. The Warriors aren't going around seeding havoc around the league. The Warriors are just being the Warriors. Amid all the turmoil in Cleveland, the Warriors sent out a media release announcing they'd signed Stephen Curry, Kevin Durant, Andre Iguodala, Zaza Pachulia and David West. Just like that, the team that had the best season also had the best offseason.
Haberstroh: 5 percent. Irving reportedly considered bolting after beating the Warriors in 2016, so I don't think this is about them. Sure, if the Warriors lost the 2017 Finals, I don't think Irving would be thinking about leaving in middle of a three-peat chase. But I could be wrong.
McMenamin: 10 percent. If the Warriors don't get Durant in the summer of 2016, we might be talking about the back-to-back champion Cavaliers. But they did get KD. And KD got Finals MVP. And Irving is trying to leave a loser, not a winner.
Shelburne: 10 percent. The Warriors have the whole league shook. The Golden State elephant has the rest of the league doing things wholly out of character this summer. But the situation with Kyrie feels more personal to his unique personality, and the dynamic between himself and LeBron. In this case, I think the Warriors have more effect on LeBron's thought process than Kyrie's.
Windhorst: 75 percent. The Warriors are to blame for everything. After a hiatus, Warrior Paranoia(TM) is back with a vengeance! They have done psychological damage to the entire league, and they're laughing all the way around the golf course.
5. Where will Kyrie Irving play in 2017-18?
Adande: Cleveland … at least at the beginning. With two years left on his contract, Irving doesn't have the leverage to force his way out or dictate where he'll go. With no definitive word from LeBron about his next move, the Cavs don't know whether to go for veterans or youngsters/picks. The best move is to keep Irving around and hope he goes on an extended hot streak.
Haberstroh: Phoenix. I think an Eric Bledsoe and Jared Dudley swap should do it. I wouldn't put Josh Jackson in the deal if I'm the Suns. The Cavs don't have many realistic suitors who can offer a really good young point guard who plays defense and an ideal role player like Dudley.
McMenamin: Minnesota. A trade package centered on Andrew Wiggins would be a poetic twist on the Cavs' roller-coaster ride since 2014. Jimmy Butler and Karl-Anthony Towns, sources tell me, have been lobbying both Irving and the Wolves' decision-makers to make a trade happen. If the package included Jeff Teague (albeit with a do-not-break-glass-until-Dec.-15 caveat to it), it would give Cleveland the potential to be better in a seven-game series against Golden State. And I write that knowing full well that Irving averaged nearly 30 points in this year's Finals.
Shelburne: Miami. The team that gets Kyrie is going to have to be OK with giving up a lot of young assets for a player who could leave in two years. So the four teams on his list have an advantage in knowing he'd be likely to stay there beyond his current contract. Minnesota can probably offer the most, but it's hard to see the Wolves parting with Andrew Wiggins, given coach Tom Thibodeau's valuation of defense. The Heat are dying for a young star, and Pat Riley and Andy Elisburg are both creative and bold enough to find a way to get this deal done. I think the Cavs will be worse after dealing Irving, because right now there's no real leverage for Cleveland to push for multiple picks or young players.
Windhorst: Phoenix has the best cadre of assets to make a deal. Regardless of the Suns' current negotiating position, they probably could make it happen. They have to evaluate their timeline and the risk of Irving leaving in free agency, but that's the team. After that, Minnesota. As for Cleveland, I have no idea what the Cavs' future will look like until I see what they get for Irving.