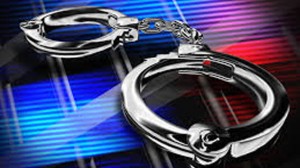 Four police officers, with a combined total of 59 years of service, appeared before a Port of Spain magistrate yesterday on three charges of misbehaviour in public office following enquiries into the robbery of a Chinese couple of over $500,000 on September 17.
The officers—acting Sgt Lester Garcia, acting Corporal Sheldon Peterson, PC Dexter Edwards and PC Ronan Newton—all stood in silence when they appeared before Magistrate Christine Charles in the First Court. The men were all dressed in formal wear after they successfully obtained station bail on Tuesday night at $800,000 each, to cover the offences. They were all represented by Senior Counsel Sophia Chote and Trevor Clarke. Charles read out three charges of misbehaviour in public office against the men, which alleged the officers, being in and performing duties of the local Police Service, governed by the Police Service Act of 2006, committed larceny by removing $175,000 from the home of Danny and Yvonne Owu at Bon Air Gardens West, Arouca, on September 17. The sum of the three charges amounts to $525,000.
The charges were laid indictably and none of the four men was called upon to enter a plea.
The magistrate then enquired from police prosecutor Sgt Callister Charles if the State had any objections to the court continuing the station bail, to which the sergeant said there would be no opposition.
Charles said the four officers were members of the T&T Police Service, meaning prior to this matter they would have had clean records before the courts.
He then submitted the matter had not taken place in the jurisdiction of the Port of Spain Magistrates' Court, and as a result the matter would have to be adjourned and transferred to the Arima Magistrates' Court.
In addition, since a State prose­cutor from the office of the Director of Public Prosecutions would also have to be appointed to oversee the case, he said he would not object to the station bail being continued.
Magistrate Charles then adjourned the matter to October 8 to be called before the Arima First Magistrate's Court.
Cpl Rollocks, of the Professional Standards Bureau, was said to be the complainant in the matter.
The policemen hid from the media when they exited the court.
The robbery victims—Danny and Yvonne Owu—who own a casino and restaurant, alleged that on September 17 officers of the Northern Division entered their home and made off with two duffel bags filled with cash amounting to more than half a million dollars.
Officers at the Tunapuna and Arouca police stations refused to take their report. Police later executed a search warrant at Arouca Police Station, looking for the stolen money, but turned up empty-handed.
One day later, the acting sergeant was transferred to St Joseph Police Station, the acting corporal to Tunapuna, and the two constables to the Malabar and Pinto Road stations.