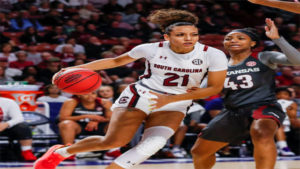 Eight years later, the dream has become reality. The hard work has paid off.
Mikiah Herbert Harrigan was drafted by the Minnesota Lynx with the No. 6 overall pick in the 2020 WNBA Draft on Friday night, one pick before former South Carolina teammate Ty Harris.
"I wasn't expecting my name to get called that early, but it did and I'm happy for that," Herbert Harrigan said on a conference call with reporters.
"I was super excited for her, just because a lot of people didn't have her projected this high and she shocked the world," Harris said. "I'm so, so happy for her and I'm so proud and I love her to death and I'm just happy that we could go back to back like that."
Added Herbert Harrigan, "I'm very excited about it. Yes, I can contribute early. I have to continue working on my game and do whatever to help my team win. I'm very excited to play under [Lynx Head Coach Cheryl Reeve]. I'm looking forward to the season and being able to go out there and perform. I actually know someone on the team that I'm pretty cool with [Sylvia Fowles].
The South Carolina alumna averaged 13.1 points, 5.6 rebounds and 1.8 blocks per game this past season and was named the SEC Tournament Most Outstanding Player.
"We're all very, very, very excited. As you know, Kiki is from Anguilla, so she will be the first person from the island to play professional ball, male or female. Instead of history, it's herstory," Michelle Herbert, Mikiah's mom, told Spurs & Feathers. "Girls don't even play basketball back home. The fact she made it this far, the whole island is going crazy. The support is too much. Everyone's calling and sending love. The chief minister of the island, the governor, everyone's excited."
Herbert Harrigan averaged 14.7 points in SC's three wins at the tournament, a stretch that was topped by a 15-point performance against Mississippi State in the championship game.
"I think Kiki's stock was rising just throughout the season," Staley said. "Her 3-point shooting percentage. Her overall [shooting] percentage. Her ability to just be efficient. Kiki, the times that she did get a chance to shoot the basketball, more times than not, she made shots, and they were from all over the place.
"That's appealing to the next level."
Of Staley, Herbert Harrigan said, "I learned a lot from her, whether it was on the court or off the court. She really helped me with maturity and growing up. She taught me about the game. I really appreciate what she did for me."
ight years ago, before the first practice of her high school career, Herbert Harrigan told her coach Latravis Bernard that playing in the WNBA was her ultimate goal.
At 6-2, Herbert Harrigan may have to adjust from being an interior presence who has the ability to stretch the floor to more of a perimeter-oriented player. "I'm open to new challenges, so that won't be an issue," she told Spurs & Feathers before the draft.
She also said she's open to playing overseas as well as in the WNBA. "If I have the opportunity, I would definitely do both," she said.
Staley said that she does think Herbert Harrigan can play small forward in the WNBA, as evidenced by playing Chelsea Dungee and Rickea Jackson this past season.
"She showcased her talent in being able to defend on the perimeter while also not losing out on blocking shots," the coach said. "I think that is what's making her stock rise, and just her ability to be as versatile as anyone, especially with her height and athleticism. And her scoring ability."
"Obviously she had a great season. … Just her athleticism. I think that always makes the transition a little bit easier, and she's obviously someone that can stroke it," Phoenix Mercury head coach Sandy Brondello said before the draft. "She's got a smooth stroke.
"I think she will be a handy player in the pros and continue to develop her outside shooting. I think she has a lot of upside."
Said ESPN reporter Holly Lowe, "Kiki Herbert Harrigan, I thought she took huge steps forward this year. She's an athletic post … and is an intriguing prospect, because I don't think we've even seen her best basketball yet."
Rebecca Lobo said she loves Herbert Harrigan's game.
"I love her fire. She competes. I think she's a player, who, if we had had an NCAA Tournament … I think she's a player who could have seen her stock rise because it seems like, in these big moments, she elevates herself and she just has a competitiveness and a will to win that is elite," she said.