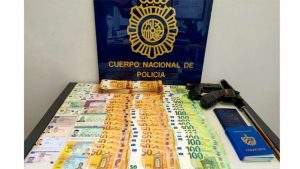 Serbian police said Monday they have arrested two people suspected of helping smuggle Cubans toward Spain as part of an international crime group.
The two Serbian citizens were arrested in a month's long investigation in cooperation with Spain, the Interpol and Europol, police said in a statement.
They said 18 more suspects have been arrested in Spain.
The suspects in Serbia are accused of organising the illegal transfer of at least 53 people to neighbouring countries — North Macedonia or Bosnia — and on to Spain, said the statement.
Serbia, a southeastern European nation located on the Balkan peninsula, is at the heart of a key land route for migrants trying to reach the European Union.
The country in April revoked a visa-free travel arrangement with Cuba following reports of Cubans moving on toward Spain and other EU countries after first coming to Serbia as tourists.
Serbia also imposed visas earlier this year for the citizens of Burundi, Tunisia and India for the same reason and under pressure from the EU, which is seeking to curb migration into the 27-nation bloc.