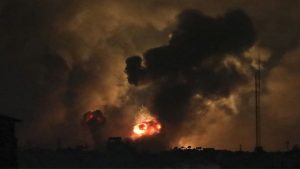 The United Nations General Assembly on Friday adopted a resolution calling for an "immediate, durable and sustained humanitarian truce" between Israeli forces and Hamas militants in Gaza.
From the 193-member world body, 120 members voted in favour of the resolution including Antigua and Barbuda, The Bahamas, Barbados, Belize, Dominica, Grenada, Guyana, Saint Kitts and Nevis, Saint Lucia, Saint Vincent and the Grenadines, Suriname and Trinidad and Tobago.
Haiti was among 45 Members who abstained from voting on the resolution, 14 Members voted against it and Jamaica missed the vote.
UN General Assembly ADOPTS resolution on "protection of civilians and upholding legal and humanitarian obligations" on the ongoing Gaza crisis Jamaica's absence has come under heavy criticism online.
In an update on X, formerly known as Twitter, Jamaica's Foreign Affairs minister explained what happened:
"Regrettably, consultations were underway w/ Kingston which did not conclude in time for the close of vote. Jamaica welcomes the action taken by the UNGA, and hopes that it contributes to progress. JA chairs the CARICOM caucus at the UN and earlier delivered the statement attached."
The Jordanian resolution, which was adopted by the General Assembly, marks the first formal response of the United Nations to the hostilities since the Hamas terror attacks of October 7, after the Security Council failed on four occasions to reach consensus on any action.
The resolution does not make specific mention of the militant group which controls Gaza, Hamas, one of the key issues which led to a Canadian amendment being proposed.
The resolution calls for an "immediate, durable and sustained humanitarian truce", and demands all parties comply with international humanitarian law and "continuous, sufficient and unhindered" provision of essential supplies and services into the Gaza Strip.
It also calls for the "immediate and unconditional release" of all civilians held captive as well as demanding their safety, well-being and humane treatment in compliance with international law.