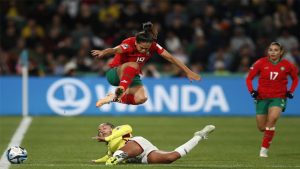 PERTH, Australia (AP) — Morocco have beaten Colombia 1-0 to make it to the Women's World Cup knockout round – and to make even more history.
Morocco are the first Arab or North African nation to go this far at the Women's World Cup. They are the only one of eight tournament newcomers to advance, Morocco's winning goal came in first-half stoppage time, when Anissa Lahmari put back a penalty-save rebound.
The win meant Morocco qualifed in second place in the group, behind Colombia, and knocked two-time champion Germany out of the tournament.
Morocco's qualification for the Women's World Cup inspired a generation. This will cement the legacy of the Atlas Lionesses, who were trounced 6-0 by Germany in their debut game in the tournament but bounced back with consecutive wins.
Goalkeeper Khadija Er-Rmichi was instrumental in the win, stopping one Colombian shot with her outstretched foot.
She blocked Mayra Ramirez' low, right-foot shot in the 63rd and tipped over another shot 10 minutes later to kept Morocco in front.
Colombia will face Jamaica in Melbourne, while Morocco will head to Adelaide to take on France in the round-of-16.