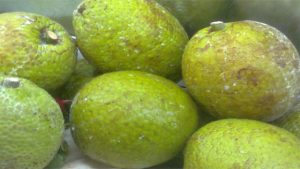 LONDON, England, Monday August 29, 2016 – Breadfruit is usually packed with nutrients, but a shipment of the produce from St. Lucia arrived in Britain turned out to be full of something less wholesome.
A freight consignment consisting of 93 boxes of breadfruit and plantain arrived at Gatwick last Monday. But when by UK Border Force officers searched it, they found 6.8 kilos of cocaine concealed inside nine hollowed out breadfruit in one marked box.
"Border Force officers play a crucial role in securing our borders against drug smuggling. In this case, their professionalism has meant that dangerous Class A drugs have been seized and will no longer end up in our communities where they can do so much harm," Border Force South regional director, Sue Young, said:
"We continue to work with our colleagues from the National Crime Agency to do all we can to stamp out this despicable trade and bring those responsible to justice."
Border Force officers use hi-tech search equipment to combat immigration crime and detect banned and restricted goods that smugglers attempt to bring into the UK.
They use an array of search techniques including sniffer dogs, carbon dioxide detectors, heartbeat monitors and scanners – as well as visual searches – to find well-hidden stowaways, illegal drugs, firearms and tobacco which would otherwise end up causing harm to local people, businesses and communities.