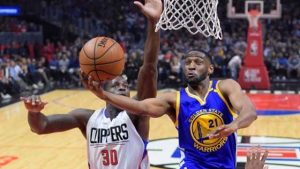 LOS ANGELES — The Warriors weren't messing around, not even against a team they've dominated for a while now.
Stephen Curry scored 29 points despite making just three 3-pointers, Kevin Durant added 26 points and 10 assists, and Golden State defeated the Los Angeles Clippers 133-120 on Thursday night for their fifth straight victory.
The Clippers gave up three dunks and had four turnovers to start the game. Curry forced two steals, feeding Durant and JaVale McGee for consecutive dunks that stunned the Clippers.
"We came out with intent, got two quick steals, pushed the transition, and set the tone that we were going to be physical on the defensive end," Curry said.
Blake Griffin had 31 points, making 11 of 13 free throws, for the Clippers. They have lost nine in a row to their Bay Area opponents, the franchise's longest active skid against a single team.
"Trying to make plays is a never-ending struggle," Griffin said. "You just figure out the situation and sometimes it is just not your night. Open shots killed us."
The rematch wasn't the debacle that occurred last weekend when the Clippers lost by 46 points at Golden State.
But they still never led and trailed by 21. The Clippers got beat in every category despite Griffin's hard-charging effort. The Warriors were dominant in the paint, on second-chance points and fast break points.
"Everybody came out with a great mindset in helping each other on the glass, knowing we were kind of thin on the front line," Durant said. "Our bench was great, our guards, everybody came in on rebounding."
Golden State has won 11 of its last 12.
The Clippers got within seven on a 3-pointer by Jamal Crawford with 1:55 remaining in the game. But Durant answered with a 3-pointer and Klay Thompson added another.
The Clippers' defense was no match for Curry. He slipped through the lane for a fastbreak layup with Raymond Felton dogging him on the left and DeAndre Jordan on the right. Curry fell down scoring, drawing the foul and completing the three-point play that kept the Warriors ahead by 15 in the third quarter.
"They performed at a much higher level than us, it wasn't even close," Clippers coach Doc Rivers said. "They're a better team until we prove differently."
The Warriors toyed with the Clippers, who got within four points in the first quarter and then five in the second quarter, only to have Golden State immediately push the lead back to double digits.
"I thought we took the fight to them right away," Warriors coach Steve Kerr. "We forced turnovers on the first three possessions of the game. That really set a good tone for us."
Golden State barreled around the court, knocking down former Warrior Marreese Speights and J.J. Redick in one fell swoop after Durant pushed Austin Rivers on another possession. It was all part of a rollicking first half when the Warriors bobbed, weaved and whipped circus-like passes around before scoring.
"We got to be more organized when we play them," Redick said. "They don't run a lot of set plays. It's just a lot of movement. It's sort of to distract you with what's going on with the ball."
Los Angeles outshot Golden State in the first quarter when the Warriors took nearly twice as many shots as the Clippers.
MAKING HISTORY
Curry hit his 200th 3-pointer of the season with 2 1/2 minutes left in the second quarter, making him the first player in NBA history to have 200 or more 3-pointers in five consecutive seasons. He missed his first four 3-pointers in the game. Curry came into the game 4 of 28 from 3-point range in three previous games at Staples Center this season.
"He has 200 already? That's crazy," Durant said. "It's very difficult to do that, especially when everybody expects you to shoot the 3. His skill allows him to play that way."
HIGHLIGHT REEL
Griffin's windmill dunk over Warriors forward Kevon Looney drew oohs from the crowd and merited multiple replays on the video board. He took one large step through the lane and pushed his left hand off the head of a ducking Looney as Griffin elevated before slamming the ball down with his right hand.
TIP-INS
Warriors: Curry had 11 assists. … McGee and James Michael McAdoo each finished 5 of 6 from the field. They were among seven Warriors in double figures. … Curry got a technical for smacking the ball out of bounds in the second quarter. … They have reached 100 points in each of the last 26 games. … They were missing starting forward Draymond Green, who has a left shoulder contusion.
Clippers: Griffin passed Hall of Famer Bob McAdoo to move into second on the franchise scoring list. … Los Angeles is 2-5 in its last seven without injured Chris Paul. … Jordan will participate in the slam dunk competition on Feb. 18 during All-Star weekend in New Orleans against Orlando's Aaron Gordon, Phoenix's Derrick Jones Jr. and Indiana's Glenn Robinson III. Jordan leads the league with 152 dunks this season.
UP NEXT
Warriors: Visit Sacramento on Saturday, a team they beat by 11 points last month.
Clippers: Visit Boston on Sunday to start their annual five-game Grammy road trip.
Check out the team sites for the Golden State Warriors and the LA Clippers for more game coverage.