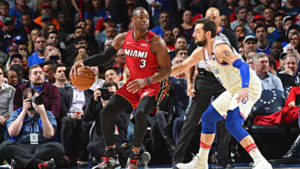 Dwyane Wade turned in a vintage performance to lead the Miami Heat to a 113-103 victory over the Philadelphia 76ers and tie their playoff series at 1-1.
The loss on Monday snapped the 76ers' 17-game winning streak.
The 36-year-old Wade is on the downside of his stellar career, but he looked like the man who in his prime helped lead the Heat to three NBA championships. Wade, who comes off the bench these days, fired up the Heat early, scoring 21 points on eight-of-nine shooting to help the Heat to a 14-point half-time lead.
And when the 76ers came roaring back in the fourth quarter to cut Miami's lead to two points, Wade almost singlehandedly took over. First, he stripped the ball from Dario Saric and raced downcourt for a slam.
Wade picked up a nice assist the next time down the court, then later grabbed a rebound to finish a 6-0 Miami run that bumped the lead back to eight. He was not finished – with 48 seconds left and the Heat clinging to a six-point lead, Wade buried a jumper to ice the game.
Wade finished with 28 points and seven rebounds in 26 minutes. Along the way, he passed Larry Bird for 10th all time on the NBA's career playoff scoring list. Goran Dragic added 20 for the Heat.
Ben Simmons (24 points) and Saric (23) led the 76ers. The two teams meet in Miami on Thursday in game three.
Elsewhere, the visiting San Antonio Spurs showed tremendous fight early against the Golden State Warriors, carrying a 53-47 lead into the locker room. But Golden State turned it on in the second half to score a 116-101 victory and go up 2-0 in the series.
Kevin Durant and Klay Thompson scored 32 and 31 points respectively, to pace the Warriors. But once again, with Stephen Curry watching from the sideline, Andre Iguodala (14 points) and JaVale McGee (10 points) played extremely well on the offensive and defensive end to frustrate the Spurs.
The Spurs host game three on Thursday.
AWESOME ALDRIDGE
LaMarcus Aldridge cannot do it all by himself for the Spurs, but he tries. He had 34 points and 12 rebounds in the loss to the Warriors.
Heat forward James Johnson had some nice numbers in the Heat's win in Philly. He did not miss a shot (seven of seven, including two of two from three-point range) in scoring 18 points. He added seven rebounds, five assists and three steals.
PHILLY STRUGGLE
The 76ers were terrible from three-point range in their loss to the Heat, hitting only seven-of-36 shots (19 per cent), including only two threes in 18 attempts in the first half.
WARRIORS SHINE
It is not often an Andre Iguodala to JaVale McGee pass makes the highlights, but the two Warriors are feeling it in their series against the Spurs.