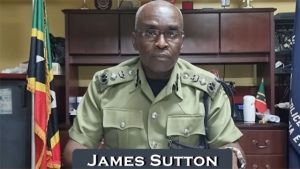 Police Commissioner James Sutton has urged Kittitians and Nevisians to choose peaceful alternatives to solve their disputes.
Sutton's appeal comes on the heels of St Kitts and Nevis recording another murder this month.
"As law enforcement officers, we continue to collectively and individually encourage our people to refrain from resorting to violence as a way to resolve conflict. It does not work – the evidence and the statistics are there to prove that. In addition to violence creating more problems that it has ever solved, far too many of our people are being cut down in their prime," the top cop stated.
"St Kitts and Nevis is a small island developing state; our most valuable resource is our people, our human capital. Nothing happens for our people without our people. To this end, it behoves us to practice restraint in times of tension or strife, and seek a resolution that all parties can live to see."
Sutton said police officers are also negatively affected by each murder scene they visit.
"I implore us all to realise that the negative impact of violence reaches much further than the deceased. We owe it to best chance at a healthy, happy life. That is our responsibility to ourselves, to our communities, and to our country".
Sutton said the Royal St Christopher and Nevis Police Force has been working to combat criminal activity through "Operation Reassurance", which was launched last month.
Fourteen persons were arrested while six firearms were taken off the streets as a result of anti-crime operations.
The commissioner added changes were made to the community policing program to increase its impact and efficiency.