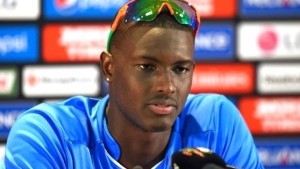 COLOMBO, Sri Lanka (CMC) — Newly appointed Test captain Jason Holder has been given a passing grade by interim head coach Eldine Baptiste, who says the 23-year-old needs to continue to back himself in the role.
Holder was elevated to the Test captaincy prior to the Sri Lanka series, taking over from wicketkeeper Denesh Ramdin who led the side for 15 months.
And while his first series in charge was marked by 2-0 defeat to Sri Lanka, Baptiste said Holder had been excellent throughout.
"You couldn't ask for more. To be quite honest, Jason has been very, very good," Baptiste said.
"It's a pleasure to sit out here and watch what he is doing.
"As I said to him, don't be afraid. He's a young man, he's going to make mistakes but don't be afraid to make mistakes. (He needs to) back his instinct, back his gut feeling and he's done that."
Holder was named one-day captain last year ahead of the tour of South Africa in January, and also led the team to the World Cup in Australia and New Zealand.
With his appointment as captain in the longest format, he became West Indies' youngest ever Test captain but Baptiste said Holder had taken to the job easily.
"You can see tactical-wise and all that, he's been doing a very good job. Hats off to him, he's looking very good and comfortable in the job that he's doing."
Seamer Ravi Rampaul, who has joined the squad here for the upcoming limited overs series, also threw his backing behind Holder.
The 31-year-old has played extensively with Holder for Barbados Tridents in the Caribbean Premier League, and said he admired his desire to win.
"He has a never-say-die attitude. He doesn't like to lose any game and from the couple of games I've played with him he's always wanting to win and never gives up," Rampaul pointed out.
"That's what I like about him. He's doing a good job so far with the captaincy so it's just for the senior guys to rally around him and give him some support."