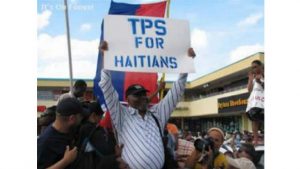 A letter from the United States Department of State could pave the way for deporting 50,000 Haitian residents, by the Thanksgiving holiday later this month, enjoying a reprieve from certain immigration rules that were waived after the 2010 earthquake, according to reports here.
The ruling that conditions have improved enough in Haiti and in Central America to resume normal immigration rules in those regions comes days before the Department of Homeland Security is expected to announce whether to renew the special status, according to the Washington Post.
The Miami Herald reports that political leaders in Miami-Dade, Florida — home to the largest concentration of Haitians protected by the special status, known as Temporary Protected Status (TPS), have urged President Donald Trump to continue the waiver.
But the paper quickly added that the State Department decision could be a prelude to that status being lifted.
More than 300,000 Central Americans and Haitians living in the United States under a form of temporary permission no longer need to be shielded from deportation, the State Department told Homeland Security officials, the Post reported.
Last week, US Secretary of State Rex Tillerson sent a letter to acting US Department of Homeland Security (DHS) secretary Elaine Duke to inform her that conditions in Central America and Haiti that had been used to justify the protection no longer necessitate a reprieve for the migrants, some of whom have been allowed to live and work in the United States for 20 years under a program known as TPS.
It said Tillerson's assessment, required by law, has not been made public, but its recommendations were confirmed by several Trump administration officials familiar with its contents. The Herald reports that the officials spoke on the condition of anonymity.
On Monday, the Trump administration said it will end TPS that allows some Nicaraguans to live and work in the United States, while leaving the door open to cancelling the same program for more Haitians and Salvadorans in the coming weeks.
The DHS said about 2,000 Nicaraguans who have TPS must leave or seek another form of legal residency, though those affected will be able to stay until January 5, 2019.
The status had been granted to some Nicaraguans, who had fled their homeland after the devastation caused by Hurricane Mitch in 1998.
"Based on all available information, the country conditions in Nicaragua now exceed Hurricane Mitch," said a senior administration official.
The 1998 hurricane killed more than 2,000 people in Nicaragua and caused over US$1 billion in damage.
Concerning the status of Haitians — that is set to expire in January 2018, affecting about 50,000 people, most of them in Florida, while Salvadorans' status expires in March 2018, affecting nearly 200,000 people.
Homeland Security officials also announced that Honduras will get a six-month TPS extension, until July 2018, after the programme was set to expire in January. Just fewer than 60,000 Hondurans have received TPS.
"These are people who have had to go to the Department of Homeland security every 18 months, and have shown their papers, their information, their records, have paid to be renewed. They have consistently complied with the Department of Homeland Security. They are the fabric of our communities, and our economies and our industries," said Maria Rodriguez of the Florida Immigrant Coalition.
The Herald said there is talk at DHS and Democratic and Republican offices about potentially using the Diversity Visa Lottery Program, which Trump wants to end, to help Haitians and other TPS members to get permanent residency.
TPS for Haitians was expected to expire this summer, but the secretary of Homeland Security at the time, John Kelly, decided in May to extend the status an additional six months to allow Haitians more time to prepare for the change.
Proponents of TPS for people from Central America and Haiti argue that ending the designation for those countries is counterproductive and could also drive more illegal immigration.
"When this administration came into office, they came wanting to address the issue of the undocumented immigrants. And, in fact, by not renewing the Temporary Protected Status, they have actually made matters worse," Rodriguez said. "It is very important that these families not go back into the shadows and be fed into the deportation machinery. That hurts us all."