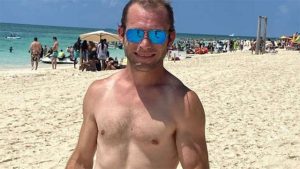 The US Coast Guard has ended its search for a man, who went overboard from a cruise ship, after a trip to The Bahamas.
Ronnie Peale,35, has been missing since early on May 29.
He was reportedly leaning over the railing of his stateroom balcony on the Carnival Magic when he fell into waters approximately 186 miles east of Jacksonville, Florida at around 4 am.
Coast Guard crews searched more than 5,171 square miles of open water and 60 hours.
"The Seventh Coast Guard District dispatched multiple search and rescue assets as soon as we were notified of the missing person. Our command centre watchstanders provided search patterns to cutter crews and air crews who actively searched from Monday through Wednesday evening," said Lieutenant Commander Christopher Hooper, Coast Guard District Seven search and rescue mission coordinator. "The decision to suspend the active search efforts pending further development is never one we take lightly. We offer our most sincere condolences to Mr Peale's family and friends."
Air Station Miami HC-144 Ocean Sentry crew Anyone with new information is asked to call the Coast Guard District Seven Command Centre at 305-415-6800.
This was Peale's first time on a cruise ship.
Peale and his wife Jennilyn Blosser had journeyed for Virginia to The Bahamas to celebrate her birthday.
In a GoFundMe fundraising campaign, Blosser said she was thankful that Peale enjoyed his time on the cruise and he made a lot of new friends.
"He is our social butterfly that was always on the move and loved to make friends with everyone. The cruise was definitely a place he enjoyed. I never could have imagined something like this could happen. Devastated, to say the least," Blosser said.
Just over US$1,000 was raised to hold a memorial for Peale.