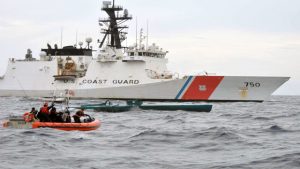 The US Coast Guard (USCG) repatriated 140 migrants back to the Dominican Republic following an operation that took place near Puerto Rico last week.
A USCG aircraft detected two overloaded vessels in waters approximately 75 nautical miles northwest of Aguadilla, Puerto Rico, on September 21. The crew of the Cutter Joseph Doyle responded to the reports and intercepted the vessels.
The migrant group was made up of 137 Dominican Republic nationals and three Haitians.
They were taken to Dominican Republic territorial waters south of Punta Cana on Friday, where 104 of them were transferred to a navy vessel. Rough sea conditions prevented the full transfer of migrants.
The cutter Joseph Doyle returned to the meeting point on Saturday, where the remaining 36 migrants were transferred.
Between October 1, 2022 and August 28, 2023, the USCG carried out 64 irregular migration voyage interdictions in the Mona Passage and waters near Puerto Rico. Authorities detained 1,675 Dominicans, 264 Haitians, 15 Venezuelans, seven Kazakhs, one Albanian and two Colombians during their 2022 to 2023 operation.
Captain José Díaz, Coast Guard Sector San Juan commander, warned migrants not to make the dangerous journey.
He said: "Anyone taking part in an irregular migration voyage aboard a grossly overloaded vessel is putting their life in danger."
Díaz added: "The Coast Guard is fully committed alongside our fellow partner agencies to work diligently in stopping these unlawful voyages to prevent the needless loss of life at sea."