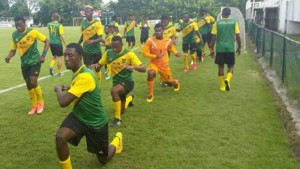 SAN CRISTOBAL, Dominican Republic — Jamaica's Under-20 team was stunned 0-2 by minnows St Kitts & Nevis in yesterday's Caribbean Football Union (CFU) Group Four qualifying match here at Estadio Panamericano.
St Kitts & Nevis forward Tahir Hanley scored second-half goals in the 60th and 83rd minutes.
Jamaica, who defeated Dominica 2-1 in their opening game on Wednesday, have three points.
St Kitts & Nevis are also on three points after going down 1-2 to hosts Dominican Republic in their first encounter.
At press time yesterday, Dominican Republic and Dominica were set to square off in the afternoon's second match at the venue.
Meanwhile, Jamaica's Ajeanie Talbott was taken to a nearby hospital in San Cristobal due to dizzy spells after colliding with an opponent. The central defender was substituted seconds before the half-time break. He will undergo tests for signs of concussion or other ailment.
The Jamaicans, a slightly improved team to the one that beat Dominica, were again toothless in front of goal yesterday, and also allowed the organised St Kitts side a few chances. On two occasions, the small Eastern Caribbean outfit were able to capitalise.
But it was Jamaica who orchestrated the first opening with only 10 minutes on the clock.
However, wide attacker Deshane Beckford side-footed wide of the frame with only a defender on the goal line after striker Shamar Nicholson had skipped by the advancing St Kitts goalkeeper Akimba Francis.
Jamaica continued to look more dangerous in attack. But St Kitts & Nevis were composed in possession and had the Jamaicans chasing the ball with a mostly neat passing game.
The young Reggae Boyz were fortunate to escape with the scores level at the break. The St Kitts team, during one of their many short passing combinations, unlocked Jamaica's defence, but an outstretched leg from goalkeeper Jahmali Waite deflected Hanley's strike at goal.
The second half saw the Jamaicans' play dip noticeably in balmy afternoon conditions.
St Kitts, on the other hand, appeared fresher, hungrier and remained compact. They took the lead right on the hour mark when Hanley deftly controlled a long diagonal pass that left the Jamaican defence wide open, and the striker slotted past Waite.
The Jamaicans sunk themselves into a deeper hole as the clock wound down. At one end, Jamaica's midfielder Joseph Dezart drilled his shot way high after being set up by Nicholson.
Only seconds later, Jamaica's substitute centre half Jahlanie Hammond saw his pass back to the goalkeeper Waite intercepted by Hanley. The striker then had the simple task of rolling into an empty goal.
Despite trailing by two goals, Jamaica hardly put up a concerted effort in the dying embers and slumped to a deserved defeat.