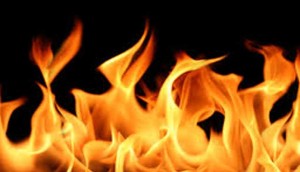 Two houses went up in flames in Brick Kiln, Nevis, Sunday night despite efforts of the Fire and Rescue services.
Garfield Hodge, Divisional Fire Officer for the Nevis Division of the Fire and Rescue Services gave Freedom FM a brief report on the blaze, the cause of which s still under investigation.
"On Sunday at about 7:25 pm the Charlestown fire unit responded to a report of a house fire in Brick Kiln. Upon arrival they met two houses fully engulfed in flames. The unit immediately commenced extinguishment and would have completely ousted the fire in about an hour and a half. The two houses are in the same yard, one wooden and one partially wooden and concrete, were completely destroyed along with their contents. As far as I was told the houses were owned by two siblings. No loss of life or injury was reported."
DFO Hodge said it was not relayed to him whether or not anyone was at home in either residence when the fire occurred.
He said the cause of the fire was unknown at the time of the report. Police is investigating the incident.