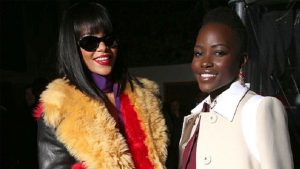 A 2014 photograph of Barbados pop princess Rihanna and Academy Award-winning actress Lupita Nyong'o has triggered a motion picture idea on Twitter, and both stars have taken to the social media site to indicate they're up for it.
The photo of the pair, which was taken at a Miu Miu fashion show during Paris Fashion Week 2014, was shared by fans.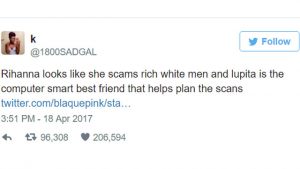 It caught the attention of Oscar winner Nyong'o (12 Years A Slave) several days ago and Rihanna has since tweeted she's also ready to rock.
Now, fans of both icons just can't wait to see the idea become reality.
It all started when Lupita saw the tweet and posted "I'm down if you are @Rihanna."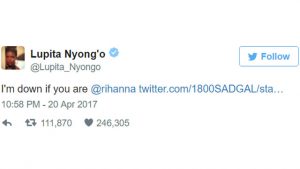 More than 200,000 fans liked the tweet, and on Monday Rihanna responded with "I'm in Pit'z" – her nickname for the Star Wars actress.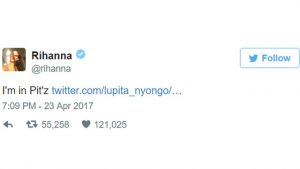 That tweet garnered another 99,000 likes as well as a blitz of suggestions about the hypothetical movie.
One fan tweeted it over to Selma director Ava Duvernay saying she should helm it, and Duvernay appeared to be hot to trot.
"Lights set. Camera's up. Ready to call action for these #queens," she tweeted back.
Rihanna went on to retweet a fan's idea to get Issa Rae, the creator and executive producer of Insecure, on board.
Rae appeared to respond in the affirmative, shooting back a Gif of a cat manically typing.
According to BBC News Entertainment reporter Frances Cronin, the idea of a movie based on the photo had been around on Tumblr when the photo was first published. But now that the main players have got involved, it looks like Twitter may have cast and created its first movie.