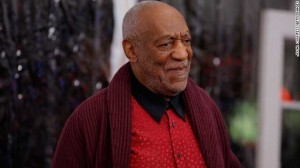 NEW YORK, United States (AP) — NBC has scrapped a Bill Cosby comedy that was under development and TV Land will stop airing reruns of The Cosby Show, moves that came a day after another woman came forward claiming that the once-beloved comic had sexually assaulted her.
NBC spokeswoman Rebecca Marks said Wednesday the Cosby sitcom "is no longer under development." a TV Land representative said the reruns will stop airing immediately for an indefinite time. The Cosby Show also was to have been part of a Thanksgiving sitcom marathon.
The NBC sitcom and Cosby Show reruns joined a Netflix Cosby stand-up comedy special, which was indefinitely postponed late Tuesday, as evidence mounted of Cosby's faltering career. They occurred a day after model Janice Dickinson, in an interview with Entertainment Tonight, became the third woman in recent weeks to allege she'd been assaulted by Cosby — charges strongly denied by the comedian's lawyer.
The developments, which involve allegations that were widely reported a decade ago as well as new accusations, have gravely damaged the 77-year-old comedian's reputation as America's TV dad at a time when he was launching a comeback.
The NBC project was in the very early stages, without a script or commitment to production. But it would have brought Cosby back to the network where he had reigned in the 1980s with the top-rated The Cosby Show.
Cosby has continued working as a stand-up comic, and has at least 35 performances scheduled throughout the US and Canada through May 2015. None of the performances has been cancelled.
National Artists Corporation, which is promoting part of the tour, said it will not be cancelling any shows.
Just 'a few more' for Jolie
SYDNEY, Australia (AFP) — Hollywood A-lister Angelina Jolie says she plans to give up acting after a "few more" films and switch her focus to directing.
Jolie walked the red carpet in Sydney with husband Brad Pitt this week at the premiere of her new movie, World War II epic Unbroken, which was filmed in Australia.
It was her second foray behind the camera after the critically acclaimed 2011 In the Land of Blood and Honey and she said directing was where she saw her future.
"I'll do a few more, but I'll be happy to let that all go at some point," she told the Sydney Morning Herald of acting, in comments published online yesterday.
"I love directing, I'm much happier directing," added the 39-year-old.
"I like following a project all the way through. I like spending two years on something and learning about it… I like being pushed mentally to have to learn so much and be a part of every single aspect of a production."
Jolie's new movie is based on the true story of a US Olympic athlete turned Japanese prisoner of war, Louis Zamperini, who competed in the 5,000m at the 1936 Games in Berlin before becoming a bombardier in World War II.
"I love actors, I love watching actors work, and I like to shine a light on them. I actually prefer it when it's not me," she told the newspaper.
Since wrapping up Unbroken, Jolie has directed both herself and Pitt in the yet to be released By the Sea.
Director Mike Nichols dies at 83
NEW YORK, United States (AP) — A legend of film, theatre and comedy in nearly equal measure, Mike Nichols was an unquestioned fixture of smart, urbane American culture across a relentlessly versatile, six-decade career that, on stage or screen, reliably coursed with crackling intelligence.
Nichols won nine Tonys, an Oscar, several Emmys, and a Grammy. He made up the lanky half of his groundbreaking comic duo with Elaine May. As a director, he made countless performers – from Dustin Hoffman to Melanie Griffith — into stars. To acclaim, he adapted Edward Albee, Neil Simon, Tony Kushner, and Arthur Miller.
Nichols, who died Wednesday night in New York at 83, was a supreme orchestrator of material, talent and taste. In films like The Graduate, Who's Afraid of Virginia Woolf? and Carnal Knowledge, he left not only a firm stamp of authorship, but with a dry wit and a classical eye, he choreographed caustic social commentaries of couples drunk with bitterness, bored with regret, and apprehensive in flight.
Meryl Streep, who starred in Nichols' Silkwood and Heartburn, recalled him as "a director who cried when he laughed, a friend without whom, well, we can't imagine our world".
Steven Spielberg called Nichols' passing a "seismic loss".
"For me, The Graduate was life-altering — both as an experience at the movies as well as a master class about how to stage a scene," said Spielberg. "Mike had a brilliant cinematic eye and uncanny hearing for keeping scenes ironic and real."
Nichols won the best-director Oscar for The Graduate, which co-starred Anne Bancroft as an aging temptress pursuing Hoffman. The film was radical for both its casting (Hoffman, then a little-known character actor, was far from the traditional leading man) and its hugely influential Simon and Garfunkel soundtrack.