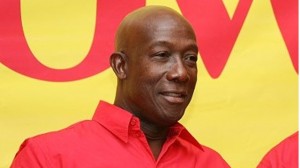 Even as he declared that T&T is on the brink of the danger zone economically, Prime Minister Dr Keith Rowley yesterday sought to assure the nation that "these are not hopeless times."
He then proceeded to list out a series of construction projects, mainly in west Trinidad, due to come on stream shortly which are aimed at kick starting the economy. They include construction of a state-of-the-art police station in Carenage, part of a revamping of the Marine Interdiction Branch to combat the narco trade. as well as a first class hospital in Sangre Grande.
Rowley said the proposed initiatives would help pull T&T out of its grim economic state, resulting in much needed job opportunities. He said it was the construction industry which had been proven worldwide to stimulate economic growth
In his address at the PNM's 45th constituency conference at St Anthony's College in west Trinidad yesterday, Rowley recalled when police officers walked out of the Carenage Police Station some years ago. He said since that time, the officers had been occupying rented premises at School Street.
"I can tell you that Cabinet is about to receive a document where a site has been settled upon by the police and the Ministry of Planning and Development and very soon work will begin on a new police station in Carenage," he said.
"It will not be an ordinary police station because representation has been made to the ministry responsible, through the police, that the time has come given what we are fighting with respect to this intractable crime problem for the Government to expand policing to our inner shores and we intend to bring back the Marine Police Unit."
Rowley said because the unit will be based at the new Carenage Police Station there will also be the construction of a water front access.
"That police station would probably be the only one with a marine base on its compound," he said.
On the issue healthcare, he criticised the previous administration for building a Children's Hospital in Couva when there was already a hospital some 20 minutes away at the Eric Williams Medical Sciences Complex, in Mt Hope.
"In the budget are continuation of the abandoned programmes of Diego Martin and its environs," he said, adding that work had resumed on the Diego Martin Sports Complex which had been abandoned for five years.
"The contractor is now back on site and very soon you would see the structure rising into the air," the PM said. Work is also expected to resume on the Bagatelle Community Centre, which Rowley said had been "abandoned in a similar fashion."
Construction is taking place on the Four Roads Community Centre, which is expected to be completed soon. The Diego Martin Health Centre, which serves the entire Diego Martin valley, is also carded for completion by next year.
Prime Minister Rowley also announced plans for a spanking new Carenage Fishing Complex. He said the facility had also been neglected by the former Kamla Persad-Bissessar government.
"A contractor has been put on site to keep the site clean and to remove a number of vagrants who occupy the site as their home," he said
"Those persons have been removed and the contractor is finalising his terms with Udecottand very soon you will see construction restarting."
Head offices for the Diego Martin and Penal Regional Corporation are also to be built and completed by next year as the green light has been given by Cabinet to approve tenders.
Roqwley said while the previous government had taken steps to award a contract to build the Penal Regional Corporation, the process had to be scrapped as it carried a $130 million price tag which je deemed ridiculous.
"We are going back now to tender for both headquarters. I am absolutely sure that those buildings can be built for less that the $130 million," he said.
Incomplete housing projects
Dr Rowley said T&T's debt increased by $40 billion over the last six years, while revenues pointed downward. The external public debt now stands at $23 billion which must be paid back in US currency, he added
However a critical area like housing will not be neglected, the Prime Minister assured. Incomplete housing projects, including Fort View, St James, will be completed and will benefit some 200 families.
He said the much sought after Victoria Keys apartments in Diego Martin, for which lands were last week transferred from the Port-of-Spain City Corporation to the Housing Development Corporation (HDC), will be sold at market value.
"I would be very surprised if very many of you here will be able to access those units. This is a very sad story because that site was actually created by cutting to fill, taking it to MovieTowne to create reclaimed land and what was left after was the footprint on which those three or four buildings were built," Rowley said.
He said in 2007 the units were almost completed but when the government changed the PP administration spent about $300 million upscaling the apartments.
"The cheapest unit is $1.6 million and it ranges from that to $2.5 million to $3 million to $4.5 million. Obviously the HDC cannot make those units available to persons of meagre means, even heavily subsidised," he said.
Rowley said there was one particular one bedroom unit worth millions due to its furnishings. He said money from the sale of the units will go to the HDC to build lower income homes. Commenting on the devastation suffered by Haiti from Hurricane Matthew, Rowley also urged citizens to head to banks to donate.
"It doesn't matter how bad your circumstances, there is somebody who is worse. We talk about pressure and poverty here until you think about Haiti," he said.