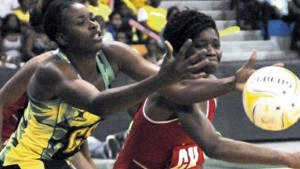 SYDNEY, Australia (CMC) — Trinidad & Tobago have won the clash of the Caribbean on Day Three with the world number 10 side overcoming the ninth ranked Barbados at Allphones Arena in Sydney yesterday.
Trinidad and Tobago Calypso Girls have defeated the Bajan Gems twice in their previous three encounters in World Cup history and managed to extend their lead in head-to-head battles with their rivals by one more, prevailing 55-39.
Allphones Arena was treated to a feast of Caribbean style netball with physical challenges, clashes, deflections, and intercepts. The match-up between Calypso Girls' shooter Samantha Wallace and the Bajan Gems' goal keeper Shonette Bruce was crucial as Barbados were able to capitalise on errors from Trinidad & Tobago to lead 13-10 at quarter time despite two stunning intercepts from Trinidad & Tobago's Onella Jack.
Both teams were unchanged heading into the second quarter as the Bajan Gems' goal shooter Shonica Wharton proved an essential target for Barbados in the goal circle.
Trinidad & Tobago's shooter Wallace steadied as her side levelled the score early in the quarter and from there it was a goal for goal battle as neither side could establish dominance with the half-time score 23-21 in the Calypso Girls' favour.
Barbados' Sheniqua Thomas was introduced into goal attack at the start of the second half as the Calypso Girls established a break of seven goals early in the quarter with goal attack Joelisa Cooper making her presence felt, but pressure from Barbados meant the margin was reduced to five with Trinidad and Tobago leading 38-33 at three quarter time.
The Bajan Gem's Faye Sealy was substituted on for injured Wharton late in the final term but the Calypso Girls' were able to punish Barbados for errors, converting on the scoreboard and winning the fourth quarter 17-6 to run out 55-39 winners.
Trinidad & Tobago's Onella Jack felt the tough matches against Australia and New Zealand prepared them for this win. "It means a lot because mostly either Barbados will beat us or we will beat Barbados so today's win means a lot to us," Jack said.
Jamaica, the other Caribbean team in the tournament, plays Scotland today in a match to determine the second team to join England to advance from Pool B.