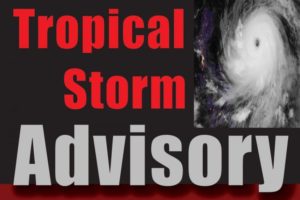 Residents in St. Kitts and Nevis are breathing a sigh of relief now that Tropical Storm Dorian is forecast to pass a safe distance south of the Leeward Islands on Tuesday.
At 11am the storm was located at 14.2 N 61.8 W, moving west north west at 13mph. Dorian is holding steady at 50mph.
National Disaster Coordinator at NEMA, Abdius Samuel while no significant wind impacts are expected over the federation, the all clear has not yet been given for the Leewards.
"As per the advisory provided by the St. Kitts Met Office Tropical Storm Dorian is about 295 miles South East of St. Kitts and Nevis and about 266 miles South east of the Leewards, with maximum sustained winds of 50mph. The storm is a small one; it only extends 45 miles from the center.
"However we want to encourage the general public to continue to be vigilant as weather is dynamic and any particular shift in a north east direction could bring storm conditions to St. Kitts and Nevis and by extension the Leeward Islands.
"It doesn't mean that St. Kitts and Nevis is out of the potential impact zone so we are encouraging everyone to continue to monitor Dorian and stay tuned to the information being provided by relevant agencies."
The National Hurricane Centre says it is possible that outer rain bands of Dorian could produce rainfall accumulations over the Leewards and BVI accompanied by gusty conditions mainly in showers beginning tomorrow afternoon.