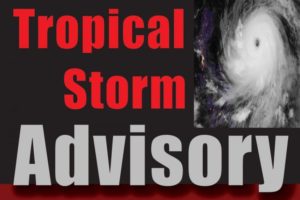 A compact Tropical Storm Dorian is getting better organized and is expected to bring tropical storm conditions to the Windward Islands later today, Monday.
As at 11am, Dorian was located 12.3N 57.7W, about 135 miles east south east Barbados.
Dorian is packing maximum sustained winds 60 mph with higher gusts as it moves west north west at 14 mph. Tropical-storm-force winds extend outward up to 45 miles from the center.
This westerly motion is expected to continue through Tuesday night, followed by a turn toward the northwest on Wednesday.
According to the National Hurricane Centre environmental conditions appear conducive for additional gradual development. Some strengthening is forecast during the next few days, and Dorian could be near hurricane strength when it passes through the northern Windward Islands on Tuesday, and is expected to be a hurricane when it moves near Puerto Rico and eastern Hispaniola.
Dorian is expected to move into the eastern Caribbean Sea on Tuesday and pass near or south of Puerto Rico on Wednesday and approach eastern Hispaniola Wednesday night.
A Hurricane Watch is in effect for St. Lucia, while a Tropical Storm Warning is in effect for…
* Barbados
* Martinique
* St. Lucia
* St. Vincent and the Grenadines
and a Tropical Storm Watch is in effect for
* Dominica
* Grenada and its dependencies
* Saba and St. Eustatius
The storm has already impacted the regional airlines, causing canceled flights for LIAT and Caribbean Airlines.
Even though the storm is located about 421 miles east-southeast of St. Kitts and Nevis, hurricane conditions are possible tonight and early Tuesday within the Hurricane Watch area in the Lesser Antilles. Swells generated by Dorian will be affecting portions of the Lesser Antilles by late today, which could cause life-threatening surf and rip current conditions.
Speaking with Freedom FM, National Disaster Coordinator with NEMA, Abdius Samuel says even though Dorian is expected to pass well south and a safe distance away from St. Kitts and Nevis, residents are not yet in the all clear and should continue to closely monitor the progress of of the storm.